Local Boy Doing Good: Mark Jacobsen – Service With a Smile
At just 32 years old, Gilroy native Mark Jacobsen has already made a "mark" on the community. He is well-known for his hard working, can-do attitude, his big goals, and his even bigger heart for the people of Gilroy.
Tom Cline, Past President for the Garlic Festival Association, who has known Mark for years, said, "Mark has always impressed me by his work ethic, whether it was at his job, or as a volunteer for the Gilroy Garlic Festival. He always works hard and gives everything he has and does everything with a smile. He has a passion for this community and is an emerging leader."
Mark had big dreams since childhood, and hoped to open a restaurant of his own one day. Through much hard work, his dreams became a reality in July 2022, when he opened his own Poki Bowl Restaurant. This quick service restaurant combines Hawaiian poke, or raw fish, with an Asian flair, and serves a customizable bowl with fresh seafood combined with several choices of bases and toppings. Poki Bowl's goal is to serve a meal quickly and conveniently while still using fresh, healthy ingredients.
Mark is very excited to welcome people to his new place. He combines his love for restaurant work with investing in the people he works with. "I enjoy being able to provide jobs for people and also being able to teach young people about the restaurant industry."
Local teenager Cody Martin, who has worked under Mark at two restaurants, said, "I like working for Mark because he is not only knowledgeable and capable, but also fun to work with."
Mark's work ethic really sets him apart. At 15, he started washing trucks with his buddy at Tri-County Trucks. Then he began building his restaurant experience, starting at Mama Mia's Restaurant in Gilroy. Mark truly "climbed the ladder" there, promoting from a host, to busboy, server, cook, and finally an assistant manager. His restaurant experience also includes opening and running a Wing Stop in Santa Clara for two years for the owner of Mama Mia's Restaurant and managing Brew City Burgers. Mark took all of this experience and applied it to opening his first franchise, Poki Bowl.
I have always tried to stay busy with work, if I wasn't working at the restaurants I was working side jobs by mowing and disking fields with my tractor. I think I got that trait from my grandfather, who continued to work until he was about 90 years old.

– Mark Jacobsen
Mark has also been serving his local community for most of his life." I love to give back to the Gilroy community," he said. He has volunteered for a variety of events and activities over the years. He started helping at the Garlic Festival when he was just nine years old and graduated to Beer Committee Chair in 2019. Mark has also volunteered over the years for the Memorial Day Parade, the Garlic City Car Show, and other Gilroy Chamber of Commerce endeavors. He has also served as a Chamber board member for four years.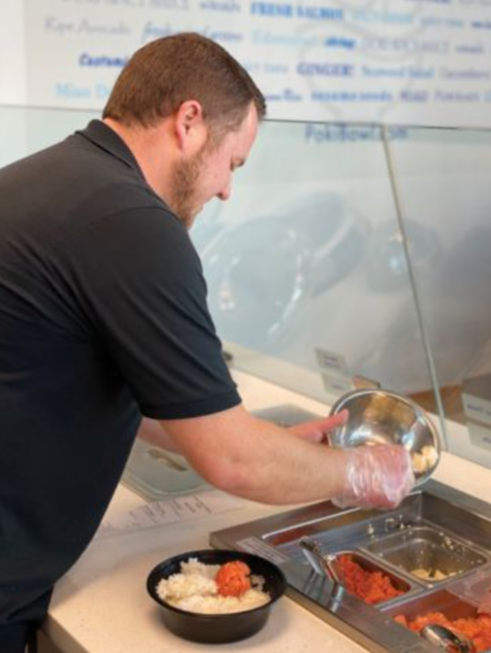 Mark Turner, CEO/President of the Gilroy Chamber, said, "Mark is one of the hardest working people I know. His commitment and dedication to the Chamber's Beer Gardens at the Garlic Festival for so many years is beyond impressive. I've been honored to work alongside Mark for the past four years during his time as a Chamber Board member. He takes his commitments seriously and sees things through."
Mark said, "I plan to get more involved with other groups, as now being a business owner I have more time available to give back to the community where I live."
Mark's goals for the future don't stop with where he is at right now. He hopes to open more restaurants, whether quick-serve or full-service. With Poki Bowl, he said he "hopes to learn more about what it takes to operate and own a restaurant, to be able to grow into multiple stores or other concepts in the future."
But don't worry—no matter how big his dreams, Mark doesn't plan to pursue them anywhere but here in Gilroy. "I plan to stay in Gilroy for the rest of my life," he said. "Gilroy has such a big heart and is a great community."
Instagram @pokibowlgilroy – 1425 1st Street, Suite 103 www.pokibowl.com/gilroy – open daily 11am-8pm