Only a life lived for others is a life worthwhile

– Albert Einstein
Garlic industry icon, philanthropist, and community advocate, Don Christopher, died on December 12, 2022, surrounded by family. He was 88. His passing marks the end of an era, yet his legacy is forever entrenched in this community.
Humble Beginnings
Don comes from a family of Danish immigrants who settled in the Santa Clara Valley growing plums to produce prunes. Don cut his teeth working on the family farm with his father and uncles, and eventually saw farming as a viable career, hoping to follow in his father's footsteps. However, by the time Don headed to San Jose State to study business, land in the area was getting harder to come by.
In 1956, in search of affordable land, Don and his brother Art heard about farmers growing garlic in Gilroy. Soon after, they found a 130 acre plot of land along Hwy 25 in south Gilroy.
The brothers found prunes too mundane and decided to grow several different crops, including garlic, on a ten-acre section of the land. Don partnered with local garlic icons like Joseph Gubser and others to get their produce to market. In 1962, he built his own packing shed and began selling fresh garlic directly. That market was nothing like today. Garlic was considered a peculiar ingredient found largely in Italian restaurants but it did not have even moderate appeal across the social strata. "People thought only poor people ate garlic," Don recalled during a 1994 Associated Press interview.
Don expanded the garlic crops with each new planting season, eventually encompassing most of his property. That expansion continued until Christopher Ranch garlic was growing on thousands of acres around the south county and throughout the Central Valley.
As Don expanded operations and perfected crop management and practices, the market began to change. Increasing migration to the US in the 1970's brought more people from Latin American and Asian countries. Americans were also becoming more health conscious, choosing garlic as a flavorful addition to healthier meals. Those social shifts presented opportunities to expand the company's share of the US garlic market.
Garlic soon gained such notoriety it spawned a little event in 1979 down at the south end of town, known as the Gilroy Garlic Festival that would put garlic and the little town of Gilroy, on the map.
A Community Built by Garlic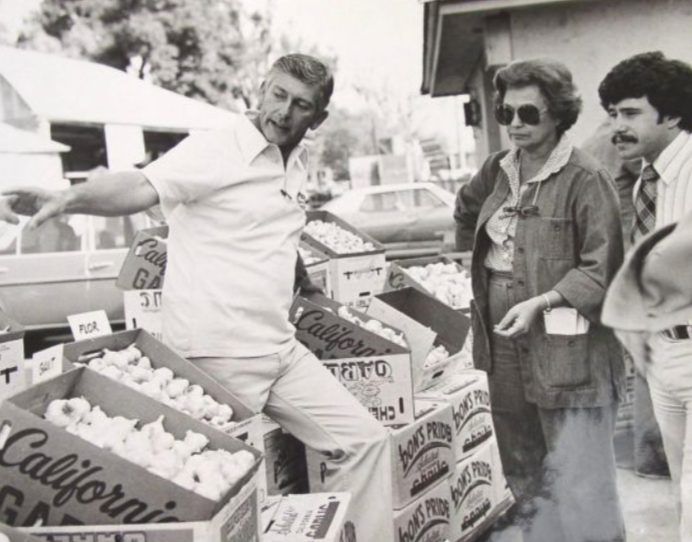 The idea for the first festival came a year earlier, in 1978, when then president of Gavilan College, Dr. Rudy Melone, a member of the Gilroy Chamber of Commerce and Gilroy Rotary Club, had read about a French festival that drew 70,000 attendees. The event organizers deemed their community "Garlic Capital of the World." In true visionary style, Melone exuberantly approached all his friends, fellow Rotarians, and others to "sell the dream" of a local garlic festival to anyone who'd listen. He was met with hard "no's" and not taken seriously by anyone, including Christopher.
Not to be swayed, Melone convinced enough fellow Rotarians to host a small festival-style luncheon for Rotary members and guests at Christopher Ranch, including the newly formed "Fresh Garlic Association," whose goals were to promote and advance the garlic industry. The Association's promotions director, Caryl Saunders, brought in media people, growers, and local dignitaries.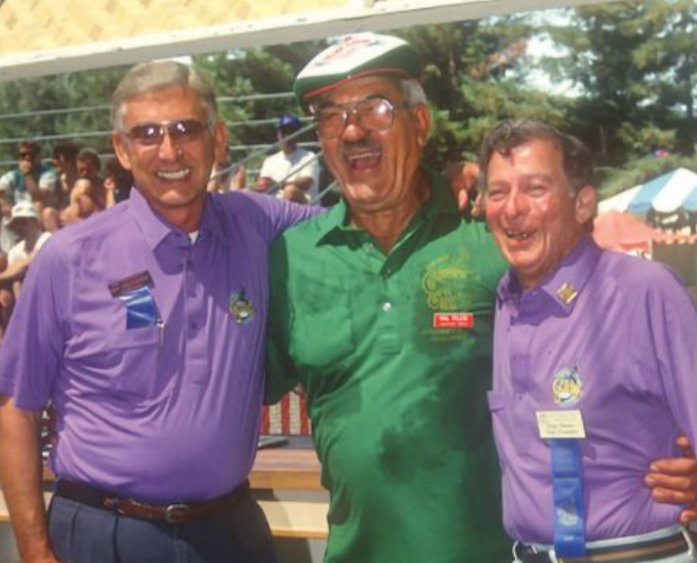 The event host committee tapped fellow Rotarian and local legend Val Filice to do the cooking. The event was a success. When the Los Angeles Times food editor insisted to Don that Gilroy should host its own garlic festival, he was convinced.
They presented the idea of a full scale festival to Mayor Norman Goodrich, who was also the Rotary President, according to Don, "He threw us out of his office!"
Despite other "nos," glimmers of progress gave Melone, Christopher, and Filice the courage to host the event themselves with the help of local volunteers. Thus beginning the concept of rewarding anyone who volunteered at the festival by donating to their favorite local charity, based on hours worked.
The first official Gilroy Garlic Festival, held at Bloomfield Ranch, was planned to host 5,000 attendees. Although detractors considered that number impossible, 15,000 people came. Organizers recycled and resold tickets, raced to nearby stores and communities in search of additional ingredients to feed the crowds, and pulled together to pull off a successful event. When the dust settled, Gilroy had a legitimate claim to the title "Garlic Capital of the World."
The following year, the festival was moved to Christmas Hill Park, where it was held until its final year in 2019. As the festival grew in popularity over the years, the proceeds donated to local organizations amounted to over $12 million dollars. That includes $40,000 in donations in 2022 that were raised through a series of smaller events in a new, more intimate format.
Don was always the first to acknowledge that the garlic industry has been a primary beneficiary of the Garlic Festival's far-reaching popularity and promotions. uses pays off," Don was quoted as saying in a 1997 festival opening ceremony speech dedicating that year's festival to him. "The Garlic Festival and all of the promotions surrounding it… have greatly improved the sales of garlic."
Timing, Innovation, Growth
Don continued to innovate his company as market opportunities presented themselves. During the 1980's, Christopher Ranch perfected the ability to peel garlic using compressed air, allowing the company to offer additional packaging options in plastic containers and glass jars, like chopped and minced garlic, roasted garlic, garlic pesto, and pickled garlic. The move to in-house packing and selling was a turning point for the company.
By this time, Christopher Ranch was already the largest producer of garlic in the US, producing 10 million pounds per year. By the 1990's production was at 100 million pounds, where it has remained ever since. Now recognized as the global leader in garlic production, their 2022 production was 105 million pounds, according to Executive VP and grandson Ken Christopher.
The company's signature product, Monviso—a centuries' old Italian variety—originated over 60 years ago from seeds grown by Don and Art on the Gilroy property, later in Nevada, and eventually in Oregon. Monviso is the company's exclusive varietal and the only heirloom garlic commercially grown in the US.
Christopher Ranch continues to thrive as a family-run business under the leadership of Don's sons and grandsons, who hold key roles in the company.
A Heart for Children and Education
A philanthropist at heart, Don and his wife, Karen, along with his family have contributed generously to Gilroy schools, the arts and to residents throughout the community.
In 1994 Don partnered with the federal government to build California's first public/private Head Start preschool. Christopher Ranch maintains the facility to this day and the government provides instructors. The facility delivers essential pre-K education to over 30 children, many of whom are the kids of employees. The Head Start facility emphasizes critical English language development skills, which will give the kids the ability to perform at the level of their peers, come kindergarten. Don understood the challenges children of migrant families faced and wanted to give them every opportunity to succeed. "He knew that when kids fall behind in their formative years, there's a very real risk that they won't catch up. "This preschool lets our community's kids be ready for kindergarten on day one," Ken Christopher told the Packer in 2019.
Don donated ten acres of land needed to build Gilroy's second high school, which the school district named Christopher High in his honor. He also provided $4 million for the building of the "Don Christopher Sports Complex" at Christopher High School. Continued…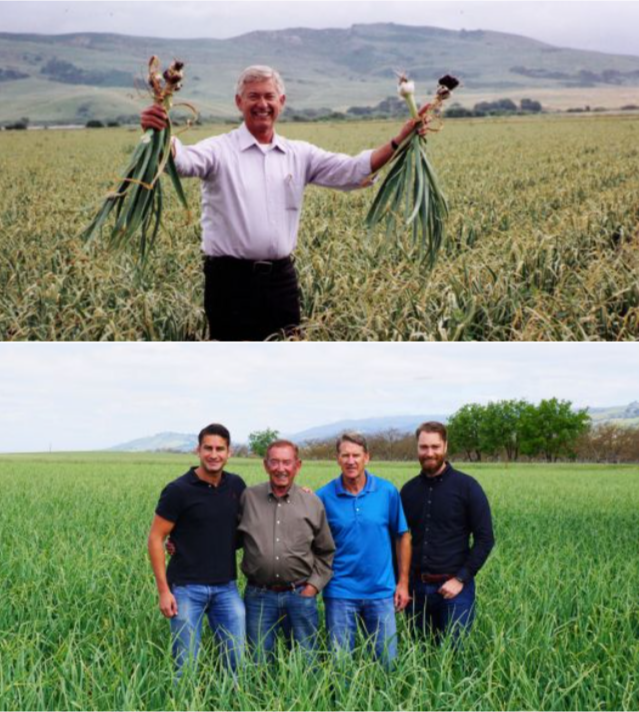 The Christophers donated an additional $75,000 donation in October 2008, earmarked as seed money to launch many of the student activities and programs at the new four-year high school including yearbook, transportation for athletics, and the student store.
Don and Karen Christopher and Christopher Ranch provide annual grants and scholarships each year through the Gilroy Foundation. To date, Christopher Ranch has distributed over $700,000 in community grants, while Don and Karen Christopher have personally distributed over $200,000 in community grants. Together they have awarded over $800,000 in scholarships to graduating high school seniors to date.
Awards and Philanthropy
Don's impressive concern for his community resulted in numerous awards. In 2015, he received the prestigious Glenn George "Heart of Philanthropy" award. The honor was bestowed by the Association of Fundraising Professionals (AFP) of Silicon Valley Board. The same year, he was inducted into the Gilroy Chamber of Commerce Hall of Fame for his life-long contributions to the betterment of the community and its residents.
In 2019, Don was named "Produce Marketer for All Seasons" by The Packer—a produce industry publication. Editor Tom Karst presented Bill Christopher with the award on behalf of his dad. In his remarks, Karst praised Christopher's great contributions to the industry and his community. "Our winner's involvement with the community is truly bigger than life," Karst said. Don's heart for philanthropy and service to others goes far beyond the items mentioned. However, the items mentioned are a good indication of the life he led, and the kind of life we should all aspire to lead.
The Legacy Continues
In 2019 the Christopher Family Foundation (CFF) was established as the non-profit arm of Christopher Ranch, formed to continue the philanthropic efforts of the company and the Christopher Family. The CFF works with local organizations to provide support and results for programs serving youth, the under-privileged, and education. The Christopher family believes that education is the panacea for so many of our community's challenges, so the CFF works with schools and institutions to reach youth of all ages, to help set them up for success.
"My family firmly believes that a well-rounded education including not only academics, but also sports, can and will give our hometown's youth the ability to excel. These past 18 months [during COVID and the economic shutdown] have undeniably been hard on our community's students, and if the Christopher Family Foundation can do something to make a positive impact, we're proud to do so. "Grandson Ken shared with gmhTODAY in 2021.
"The impact of Don Christopher's kindness on the Gilroy Unified School District community will stand the test of time," wrote Gilroy Unified School District Superintendent, Dr. Deborah A. Flores, Ph.D. on the GUSD website.
Highlighting his contributions to Gilroy High School, Christopher High School, and middle schools, she stated, "Don's reach has positively impacted the lives of our students, staff and families in great and small ways. His philanthropic spirit, innovative ideas, and collaborative approach to bettering the Gilroy community will be greatly missed. His influence made Gilroy better, and for that, we are forever grateful."
Family Man
What people remember most about Don, Ken shared, was his grandfather's deep love for family. He recalled earlier days, when Don would pick up Ken and Kevin from elementary school to go have "fun and adventure." He found time and took an interest in spending time with each of his grandkids, doing things with them that were specific to their interests and personalities. He celebrated them for the unique and special kids they were.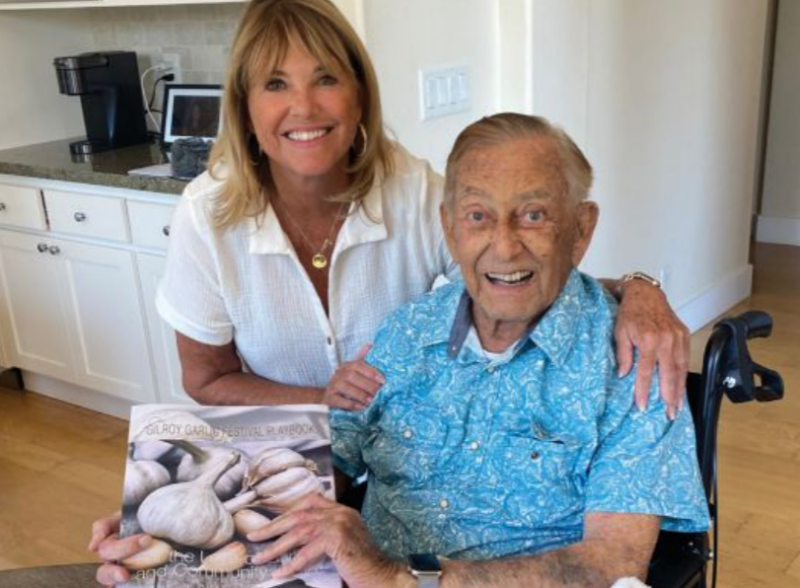 His horse ranch in SJB was a huge source of pride. He loved riding his horse, Price, and being a cowboy, with time at the ranch an escape from the daily pressures and responsibilities of operating a global company. He spent hours there, making memories with his grandkids.
Ken remembers the holidays growing up as being especially fun, "We all would sit around the table playing fun but intense games of "Red Dog" for quarters."
As the grandkids grew, Don taught them the importance of community. His interest in, and commitment to the youth of Gilroy, and in providing resources for their future success, inspired the grandkids to adopt the same spirit of giving.
"It's the genesis of the Christopher Ranch Foundation," Ken said. "My grandfather led a life filled with outpourings of kindness for others, being good to our neighbors, and inspiring others." He envisions the Foundation as the driving force to fulfill his grandfather's legacy.
In a family statement, Don's son Rob shared, "Dad had a bigger-than-life personality, yet was a role model who lived what he preached more than any man I ever met. He valued hard work, was devoted to family, could admit his mistakes and dealt honestly with everyone." Grandson Jason told the Monterey Herald, "The greatest compliment I ever had was that I remind them of my grandpa."
Son Bill shared with the Gilroy Dispatch, "My dad taught us how to treat everyone, no matter who they are, with respect and kindness. These lessons learned from him will carry on through myself and my family."
"He taught me to do the right thing, no matter how hard, each and every time," Ken shared.
Don's life was remarkable in many ways. His impact will continue to be felt for generations in our community and in the generations who succeed him in his own family. Don led with integrity, character and compassion for others. He not only left clues, but also intentionally imparted wisdom and lessons to his sons and grandsons. It appears they all paid attention. Great men raise great men.
Icon. Philanthropist. Family man. Friend. Many things to many people. Above all, Don was a great example of a life well lived.
gmhTODAY thanks the Christopher family, Christopher Ranch, J. Chris and Larry Mickartz, the Gilroy Dispatch, the Monterey Herald, the Gilroy Garlic Festival Association, and Gilroy Unified School District for providing information that contributed to this article. For more information, please contact us or visit our website at: gmhTODAY.com