Gilroy's Day on the Ridge is Back!
An Idea is Born…
It all started over a lunch conversation one day between Ed Sauceda and Shawn Chizanskos. The long time friends were debating on how to continue to give back to our local community but in a "fun and unique way."
After several baskets of chips and salsa, and maybe more than a few Margaritas, the two both kept circling back to a shared love of Live Music. And before the night was over, they sketched out plans for what would become Day on the Ridge. For those old enough to remember, Day on the Green was a once-famous Bay Area concert series created by legendary promoter Bill Graham. Our all-day outdoor format is similar, except all proceeds benefit St. Joseph's Family Center in Gilroy, a charity that both Ed and
Shawn strongly support.
With a mission to alleviate hunger and homelessness in South Santa Clara County by providing food, housing, and employment related services, they have been DOR's sole charity for 4 years. In 2019, the event raised over $100k! And, after a few presses of the "pause" button due to the pandemic, we are excited to say the event is finally back and even bigger in 2023, with our headliner Blues Traveler.
David Cox – Our very own "Rock Star"
Every great band has a great frontman. Ours has Rock Star passion and a work ethic like no other. St. Joseph's Executive Director, David Cox's energy and dedication to our cause and helping our community have been remarkable. This year will be bittersweet as David plans to retire and focus on new projects. Even more reason to make this year our best and send him off with the biggest check ever for SJFC. We sure will miss you, David! Rock on.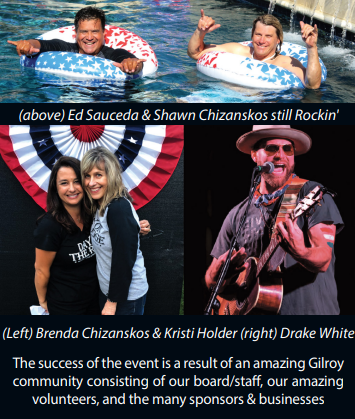 We are back! Bigger and better.
For our fourth year, not only are the bands bigger and
better, but we've added a few more premium touches.
Ridge Row will feature local food, wine, and craft beer. We really wanted to include local businesses and owners as they are a big part of what makes our city so great.
We are anticipating selling out like we have every year, so don't wait – grab your tickets today @dayontheridge.com