San Juan Bautista's 18th Barrel
18 Barrels of Fun
Who hasn't been out for the night with your significant other, disagreeing on where to go for a great drink? Let's say one of you wants to sample some of South Valley's finest wine at a tasting room, while the other wants to grab a few pints at a microbrewery. What to do? Beer or wine? Wine or beer?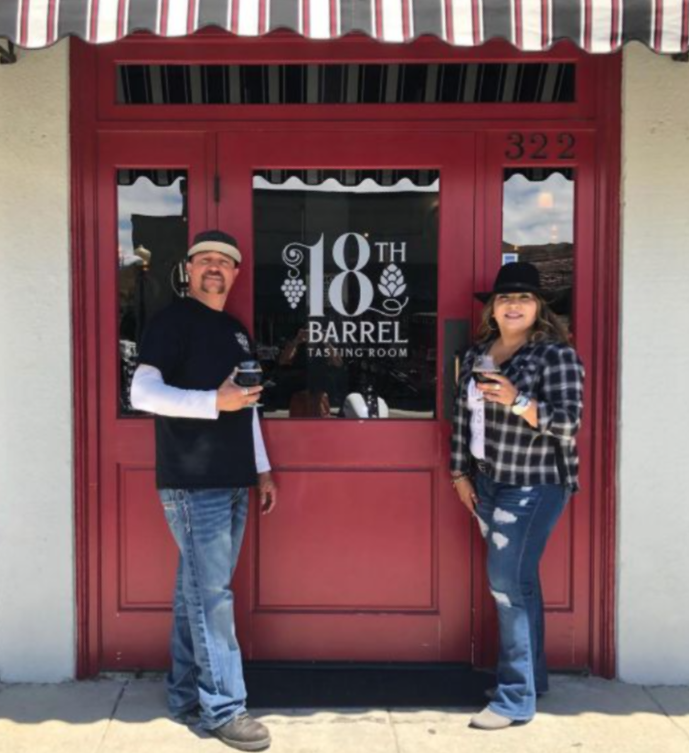 If you want the best of both worlds, head to the beautiful, historic downtown San Juan Bautista to this establishment. Immediately upon entering, you'll encounter three bar tops. The one to the left is where you can choose from a litany of local wineries' selections—something owner Monica Lopez Ramirez, a former employee at Fortino Winery, takes great pride in. The one to the right is the spot for 18 beers on tap as well as a fridge full of canned options. Then there is a center bar top where you can sit and chill while enjoying your preferred beverage of choice. In addition to the tasting room, the 18th Barrel has a massive outdoor seating area, with a stage where musical performances happen on a weekly basis.
Ramirez said that it has long been a desire of hers to run a tasting room. She and her husband, Anthony Ramirez, have operated two companies in Salinas for over 20 years—DBA Electric and DBA Alarm & Security—but finally took the plunge on their passion project in 2017. The business is a family affair, with Ramirez taking on a full-time role; her daughter is the manager; her sister and niece have roles; her husband chips in when he can; and they have a couple of employees who are de facto family members because they have been there since the beginning, Ramirez said. Even Ramirez's parents worked at the tasting room early on for a little bit.
When they found their building before opening, it was in need of serious work, being a historic building, but she relished the opportunity to make it her own. Ramirez said it looked like a bunker an open space with pillars down the center of the now tasting room. But that didn't deter her.
"We got to start from scratch. It was nice because I was able to put all my ideas, my vision, into play," she said. That vision had been simmering in Ramirez's mind for "at least 15 years" before taking the leap.
"It was pretty bad in here. But I loved it. I thought it was cool to put the pillars down the middle. And it gave me my vision because I've always wanted to do two bars," she said. "I wanted it to be separate areas. I want [customers] to have an experience like they're both places."
They built all the restrooms, the office, patched up an existing cold box that saved them countless cash, re-did the floors, and created a VIP room experience in what was essentially a storage section. Plans for the VIP area aren't solidified, but Ramirez sees it as an area where a winemaker could teach a class, or a reservation-only private tasting room. Even the outside seating was spruced up. It used to be a parking lot and now serves as the most popular attraction, especially when the live music is playing and a food truck is parked out there. Small bites are also offered at the 18th Barrel, according to Ramirez.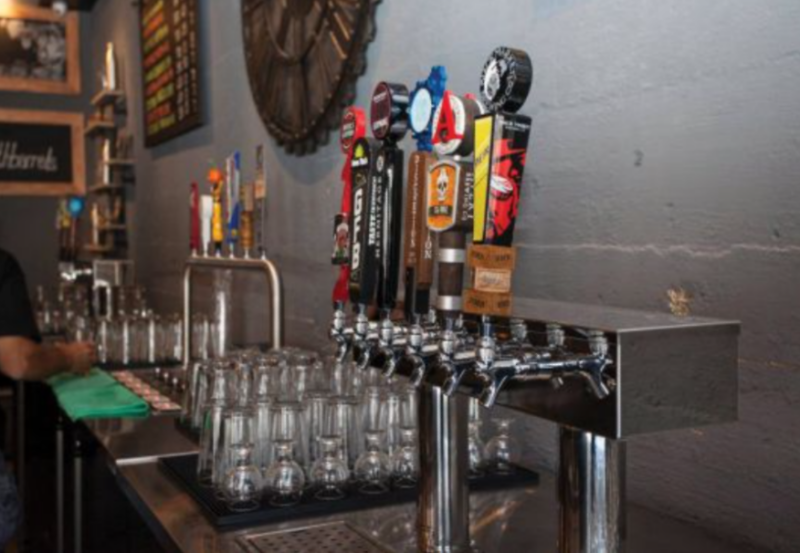 "I always had stuck in my head a wine bar. I never really knew the whole concept of craft beer. I just figured there was one hop and you just flavored it how you wanted to," Ramirez mused. "I love the way wine is. There are so many different grapes and that's what turned me onto beer. Like, oh my goodness, it's practically the same thing. It's really cool."
While Ramirez took some time to warm to beer—her favorite beer is any amber, by the way—her husband was the opposite.
"I would drag my husband everywhere. He hated wine. And it took him probably almost four years to start liking wine," she said. "I started pairing it with food. I started doing things to try to get him into it. Now, he absolutely loves wine.
Whether you lean toward wine or beer, the 18th Barrel Tasting Room has you covered. Its cozy digs are exactly what you need for a great date night. And for those couples who are at different sides of the room when choosing drinks, Ramirez has some advice for your next visit.
"Meet in the middle and be happy."
18th Barrel Tasting Room is located at 322 3rd St. in San Juan Bautista. 21+ only. They are open Thursday from 4 to 8 p.m, Friday from 3 to 9 p.m, Saturday from 1 to 9 p.m, and Sunday from noon to 5 p.m. For more information go to: www.18thbarrel.com or call (831) 623-4049.
Monica and Anthony Ramirez are the perfect hosts for your wine tasting and / or beer tasting adventures. There is always something special going on at 18th Barrel. If you haven't been, go. If you've been, go again. You will come as friends, and leave as family. 18th Barrel is one more reason San Juan Bautista is great.