The Little Black Dress
Are you one of those women who says, "I have absolutely nothing to wear?" Well, the little black dress is a solution to that problem, and a must have for every woman's wardrobe. It doesn't have to be expensive, either; it just needs to fit well and have good bones. The dress can be sleeveless or have short, three quarter length, or long sleeves and should fall just above the knee for a classic look. This can be the most important fashion piece in your closet. A staple whose look you can change completely just by the accessories you pair it with.
Cathy Shostle is my executive assistant at Marx Towing. She graciously posed for this column, wearing her little black dress in multiple ways. Cathy purchased her sleeveless black Calvin Klein dress at Macy's for $89.99, a wash and wear style, which makes it cost effective. It is made of 94% polyester and 6% spandex.
Here Are Four Fabulous Examples Of How To Wear It: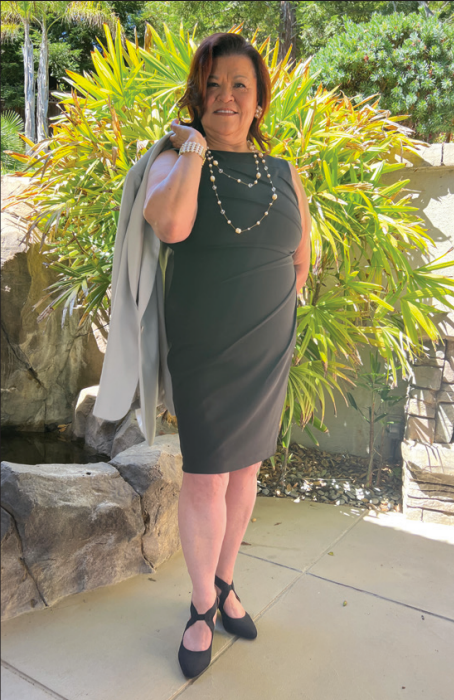 1.  Here is Cathy in the little black dress, plain and simple with clean lines. Comfortable black pumps, classic pearl earrings, necklace and a watch complement the fabulous fit of this dress. A gray blazer can finish the look here when Cathy enters her meeting. With or without a jacket of any color, Cathy is ready to command her presentation with confidence and power.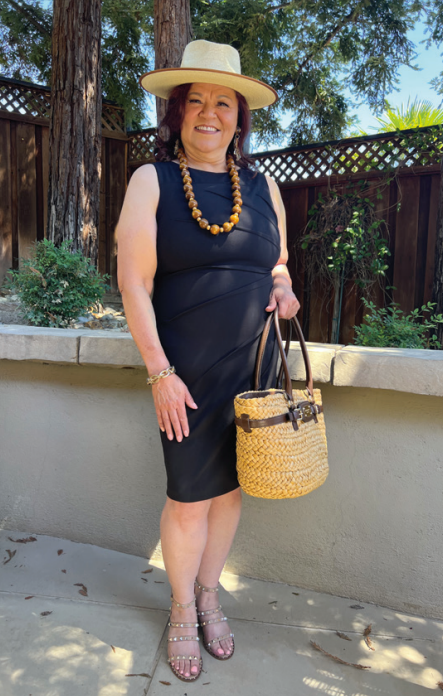 2. This sophisticated look makes the little black dress ready for a luncheon, a spring wedding, or a trip to Monte Carlo. A straw hat and a straw purse give it a more casual look. Wooden beads and a gold link bracelet are a fitting choice to go with the trendy taupe colored sandal.Tres chic!
3. This is my favorite look on Cathy. The little black dress takes on a winter vibe with a red pashmina shawl draped over her shoulders. We've accented the outfit with red and gold dangle earrings and a red, gold, and black chunky necklace. Black tights and suede pumps finish off the ensemble, which will take Cathy from day to evening. A perfect holiday look.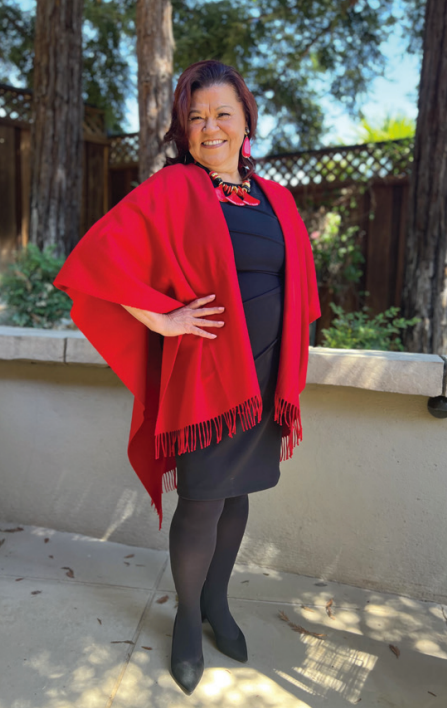 Look at that smile!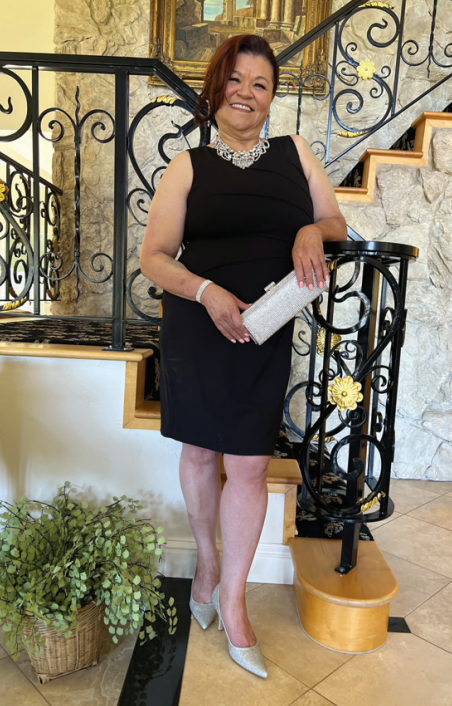 4.  Rhinestones change the little black dress completely. Now Cathy is ready for a more formal event, such as a New Year's Eve party, the theater, or a charity gala in the same little black dress she wore to the boardroom in her first look. It's all about the jewelry here and the blingy purse and heels. An updo glamorizes the look and takes the little black dress to another level. Gorgeous!