South County offers a brilliant array of art classes!
As the writer Elizabeth Gilbert says, if you're alive, you're a creative person. To help you tap into your creativity, South County's art studios are offering a vibrant palette of art classes. From ceramics and watercolors to acrylics and photography, there's an art class for every child and adult—even if you've never picked up a paintbrush.
Propelled by its mission of making art more accessible and less intimidating, 6th Street Studios & Art Center in Gilroy offers a wide array of classes. Yoga pairs with art on Saturday mornings for children, and teens ages 16 and up can sign up for monthly watercolor painting. For school-age children, art camps with full-day and half-day options are available over spring break. Summer camp will be back in session with sign-ups for one week or multiple weeks. In addition, a weekly knitting and crochet class is in the works, and Thursday art and wine nights for adults are returning.
Emily McEwan-Upright, founder of 6th Street Studios & Art Center, has observed even the most tentative student gain confidence after taking a class.
Down the street, Paint'n With Friends Art Studio in Gilroy offers a colorful variety of classes taught by Tami Brown, owner and self-taught artist. Following step-by-step instructions, children are exposed to painting, sculpting, water color, acrylic, painting on wood, and drawing.
"We have rules in the studio and the first one is to have fun," Brown said.
Weekend classes for all ages are available, as well as spring break and summer classes for children. The studio also offers a "mommy and me" class, mobile art instruction, reservations for private parties, and a multi-class discount.
"If you're alive, you're a creative person."
– Elizabeth Gilbert
Artist and motivational speaker Ignacio Moya, who goes by Nacho, said Moya Art Studio in downtown Gilroy "stands for helping others."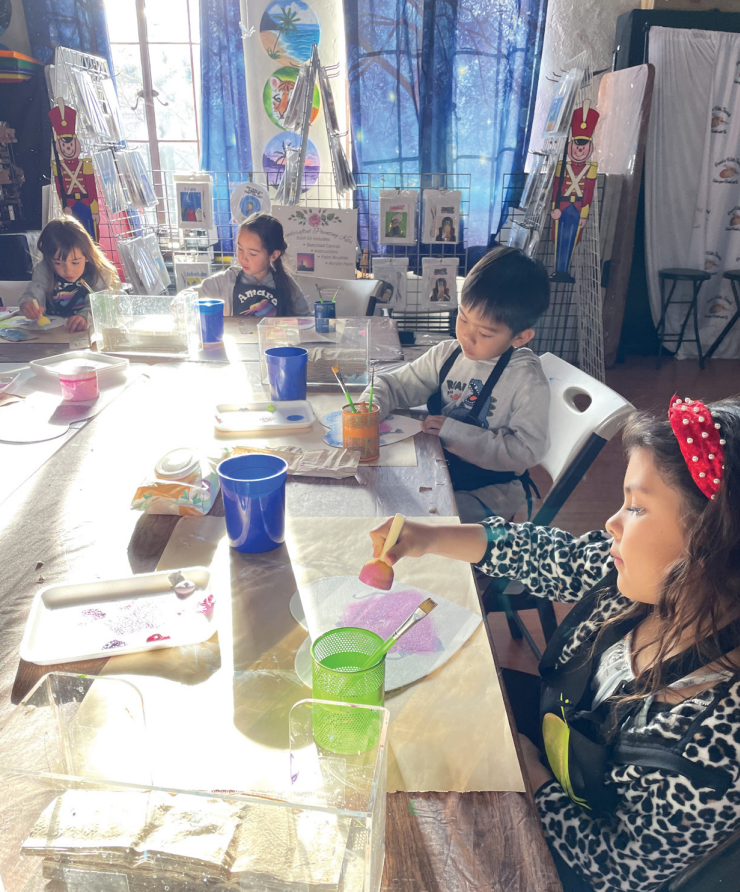 Encouragement and positivity are woven into art classes, Moya said as he invites his students to try new things and learn from their mistakes. "I say don't give up. Just because [your picture] doesn't look like mine, doesn't mean it's not right," he said.
Moya will offer spring break and summer break classes, as well as private art classes taught over Zoom. In addition, paint and sip sessions for adults are returning and bookings for private parties are also available. Take-home art kits are available from both Paint'n With Friends Art Studio and Moya Art Studio. Gilroy artist Sheryl Cathers offers on-the-go art classes or mobile paint parties — for individuals or for various sized groups — at your home, office, park or winery this summer. She also teaches classes over Zoom.
In downtown Morgan Hill, Colibri Gallery's calendar is chockfull of classes taught by Bay Area artists highlighting a variety of mediums and processes. "We have things for the beginner and the more intermediate person and all ages, too," said Ellie Honl, director of Colibri Gallery.
In mid-May, an introduction to cyanotype will be offered for ages 15 and up. Budding photographers can sign up for a daylong class in July with landscape and travel photographer Matt Chesebrough. For adults, a paint evening will be offered in May and August. And oil paint enthusiasts ages 18 and up can look forward to a two-day weekend workshop in October.
Artist Diane Wallace, who teaches from her home studio in Morgan Hill, offers small-group classes in drawing and watercolors for children and adults. She focuses on teaching techniques, basic composition, shapes, and proportions, as well as mixing colors.
"It's a visual adventure," Wallace said.
Limited space is available for weekend and weekday three-hour sessions. Weekly summer camp sessions also are open to school-aged children from June 5 through August 18. For more information about specific classes at each of the art studios, contact information is below.