Hey Valentine: Couples Q&A
Valentine's Day is the perfect time to let that special someone in your life know just how much you love them. And, while there are many ways to show love, and different types of love—love for a child, love for a sibling, love for a parent or grandparent, etc.—we are focusing on the love couples share and the tips, tricks, and lessons learned to help you make the most out of your relationship with your significant other.
This Valentine's Day we wanted to offer some perspectives on life and love from four local couples—each unique and at different stages of life.
Barbara and Erwin Boggs have more than a few years under their belts—67 to be exact. Their perspectives are refined, simple, and based in common sense, yet full of practical wisdom. After nearly seven decades, they may be on to something.
Rene Spring and Mark Hoffman have boiled down their 25-year relationship to a few key things, including having similar likes and interests, spending time together despite hectic schedules, and mutual respect.
Victoria and Eddie Valencia credit their three-year marriage and 11-year relationship to being intentional and open communication. Instead of celebrating just on Valentine's Day, these two—now with baby girl Roslyn in tow—choose to celebrate their love all year long.
Newlyweds Breann and Jimmy Garcia have figured out some key factors that make relationships work—like hard work. They both rely on the examples of family members who have modeled healthy and thriving relationships.
We all deserve and should strive for healthy and thriving relationships. These couples prove that commitment, intention, mutual respect and working to keep things fun and exciting are all important elements when playing the long game in life and love. Here are their stories:
Barbara and Erwin Boggs
Barbara and Erwin Boggs have been married for 67 years. They have made a great team raising their children, participating in their church, and volunteering in the community.
Erwin and Barbara met briefly for the first time when his family drove to Washington, D.C. for a job interview where his dad interviewed with her grandfather. Barbara just happened to be with her grandparents that day. Erwin's dad got the job, and his family moved from their farm in Pennsylvania to the city, where he and Barbara got to know each other better at the church they both attended. After a three-year courtship, they got married in 1956.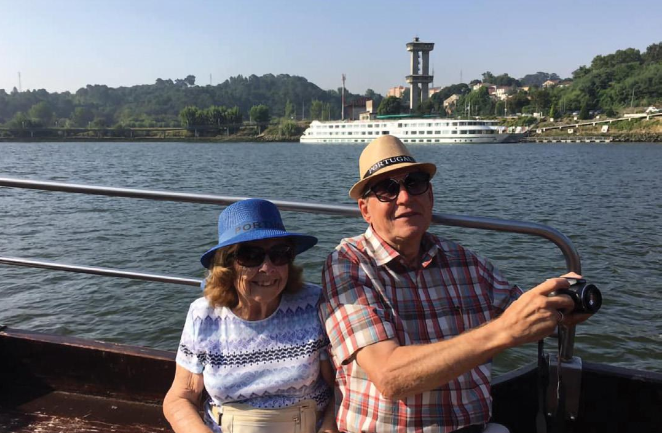 The Boggs moved to California when Erwin was drafted by the military and sent to Fort Ord, where he served for two years. They set up their home in Gilroy in 1979 and started a family, with one daughter and two sons, one of whom they lost as an adult to cancer only a couple years ago. They have one grandchild who is 21.
Before retiring, Erwin worked in insurance, as an electrician, as the owner of a men's clothing store, and as an Operations Supervisor for the Smucker's company. Barbara worked for the U.S. Treasury Dept. and then over 30 years in banking, while staying home for several years to raise her children.
The Boggs love to travel together and have spent many years taking trips in their RV as a family, including cross-country and to Mexico and Canada. Since selling their RV several years ago, they now take cruises all over the world.
Erwin and Barbara enjoy walking together daily, spending time in nature, and reading. They also spend time with their friends, rotating houses for dinners together.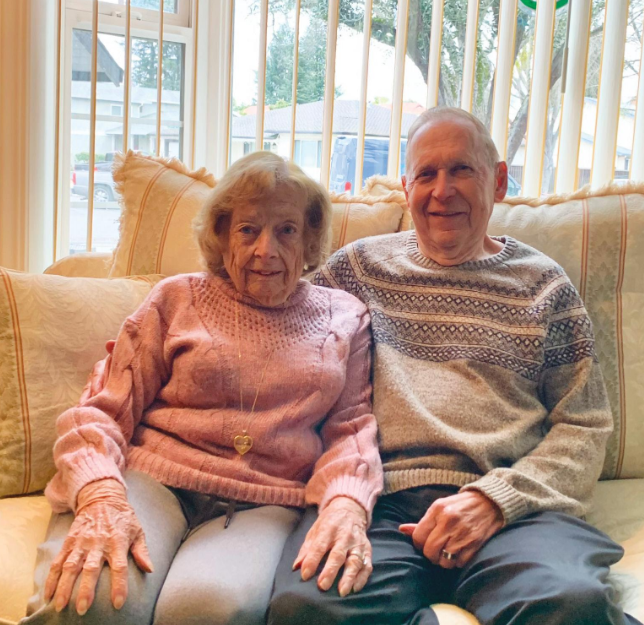 The Boggs have been volunteering together over the years. They started a kids' Bible study at their church right after they married. In Gilroy, they volunteered 41 years with the Garlic Festival, for various church activities, and are still volunteering for Visit Gilroy. Erwin and Barbara celebrate Valentine's Day simply, such as by going out to dinner. They celebrate birthdays and anniversaries in a bigger way, by celebrating with friends over dinner and other activities together.
Erwin and Barbara truly enjoy each other's company. Erwin's advice to couples is to "speak your mind openly and then come to a conclusion together." Barbara added, "Don't insist on doing things your way." Erwin and Barbara have been through good and bad times together, and Erwin said, "Our faith in God has carried us through all of that."
Rene Spring and Mark Hoffman
Morgan Hill City Council Member Rene Spring, and his husband Mark Hoffman, a mail carrier and artist, have been together for nearly 25 years, and married for 15. They initially met online and hit it off right away when they met in person. Rene found Mark funny and interesting, while Mark was drawn to Rene's kindness and big heart. Rene and Mark have their own careers, interests, and schedules, however, they still make it a priority to do things together. They enjoy hikes, walks along the beach collecting sand dollars, watching movies, and attending local shows and musicals.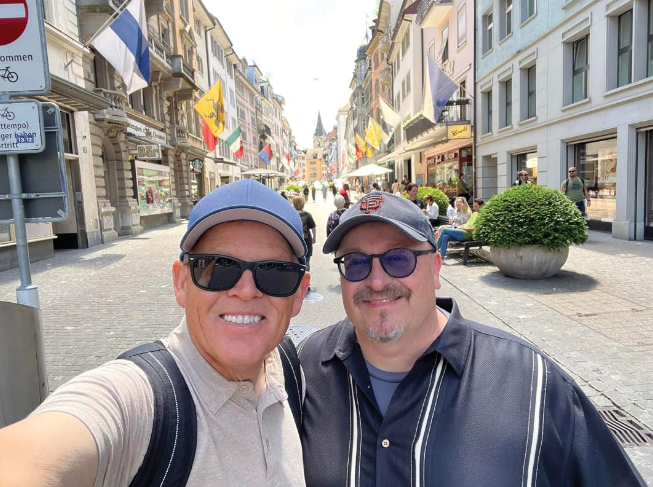 Watching the sunrise at Coyote Valley early on Sunday mornings is a favorite pastime for Rene and Mark, as well as spending time with their kids, grandkids, and a close circle of friends. Rene and Mark are also very involved in the community and enjoy giving back.
Rene and Mark are both fans of world travel. They typically visit Rene's family in his home country of Switzerland once a year. Exploring new places is a passion for them both, and they have visited many European countries, as well as Australia, Alaska, and Canada.
Like any couple, Rene and Mark have some things in common and some differences. Mark is a bubbly talker who loves Disney. Rene loves history and period pieces in movies and shows. While they both love art, Mark is an artist, while Rene admittedly is not. Rene has also introduced Mark to his love of cats, and they now have four of their own.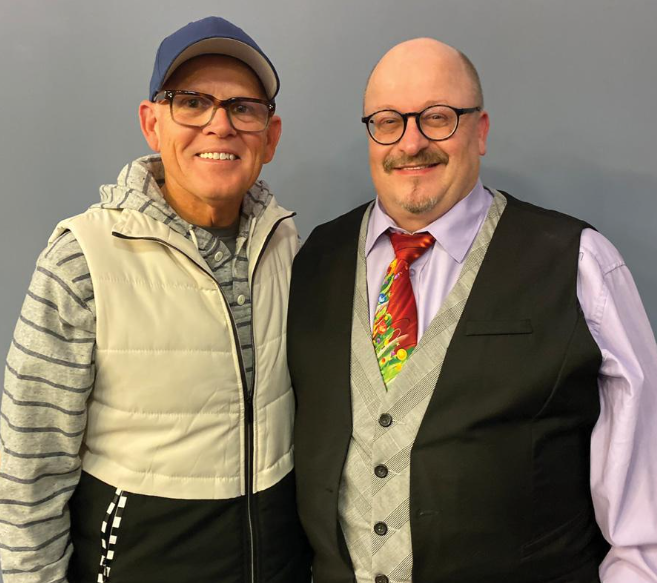 Despite their busy schedules, Rene and Mark make each other a priority. They have one dinner together per week, which they refer to as their "date night." Rene and Mark also still celebrate Valentine's Day by surprising each other with either a small gift, a fun date night, or even a weekend trip. After all these years together, Rene said, "We are still going strong and are very happy together."
After 25 years together, Rene and Mark have some advice for other couples. "Never go to bed angry, and never leave the home being angry." They also remind couples that successful relationships take work. "Talk to each other, learn from each other, respect each other, and keep loving your spouse—no matter what!"
Victoria and Eddie Valencia
While Valentine's Day may bring to mind grand romantic gestures, Eddie and Victoria Valencia have found happiness in doing the simple things in life together. Eddie, a fiber splicer for a fiber optics company, and Victoria, the community relations coordinator for the Gilroy Chamber of Commerce, are both Morgan Hill natives. Together they enjoy exploring farmers' markets, fishing on Half Moon Bay, strolling around Carmel, and taking in a comedy show or a drive-in movie.
High school sweethearts, the Valencias have been together for 11 years and were married in 2020. They had to simplify their wedding, as well, when COVID-19 canceled their original plans. The Valencias booked a last-minute appointment at the courthouse in Reno, Nevada, and a short ceremony at a little wedding chapel. With the support of a few close friends, they enjoyed the event and celebrated with food from In-N-Out Burger, Guglielmo champagne, and cupcakes from Sprouts. Victoria said, "It was the best day ever!"
Victoria and Eddie maintain a healthy relationship by celebrating each other's strengths and accomplishments, while also respecting each other's differences and preferences. Victoria and Eddie both love cats, wine, cooking, good music, exercising, and harmless pranks. However, they are accepting of each other's personality differences—Eddie is more introverted and enjoys quiet alone time; Victoria is extroverted and enjoys events and meeting new people.
Victoria said, "We value each other's independence and understand each other's social needs. We're still two people with our own interests, and we both respect that."
Eddie and Victoria had their first child in October of 2022—a daughter named Roslyn. They are the most excited about watching each other grow as parents.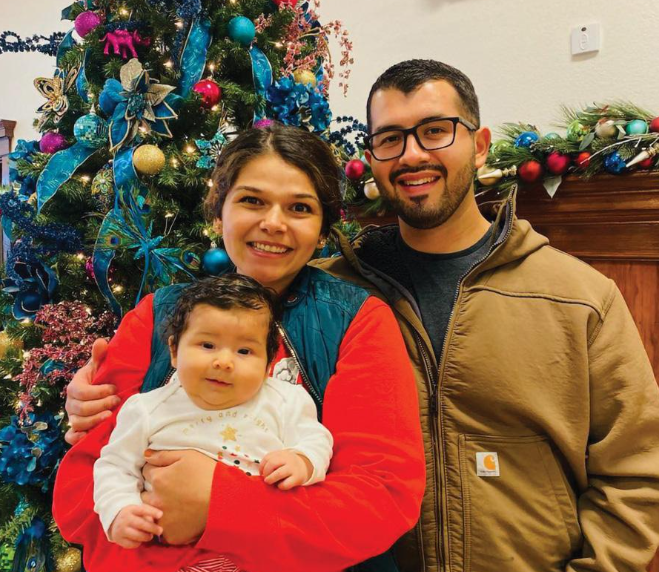 The Valencias do not normally celebrate Valentine's Day; they see themselves as celebrating their love all year long, by spending time together when they can and going out on spontaneous dates about once a week.
They both believe that communication is key and couples should be intentional about connecting. They both said, "Always make room for fun."
Breann and Jimmy Garcia
Breann ("Bre") and Jimmy Garcia may be newlyweds, but they already have some important things figured out. While many newly-married couples might be in the "honeymoon" phase at first, Bre and Jimmy already understand what it takes to make a relationship work. This is largely due to the strong examples they have had in their lives.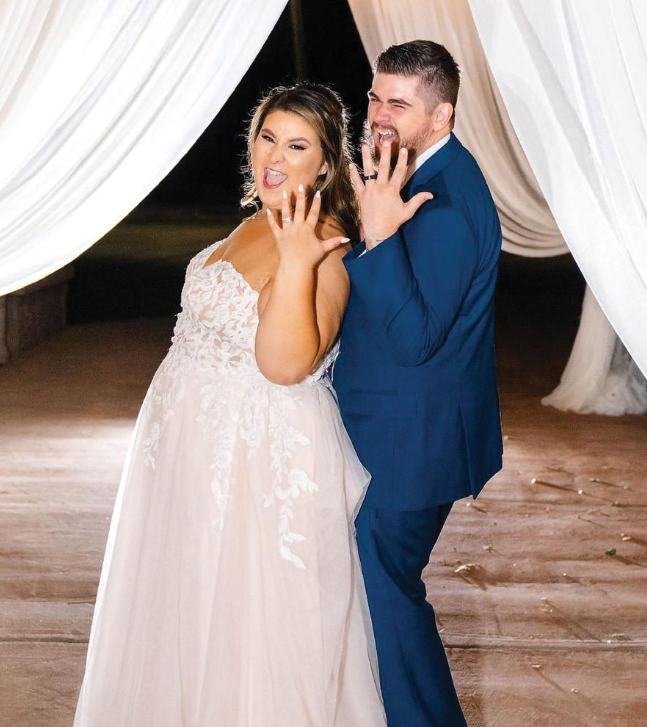 Bre, the event director and tasting room manager at Fortino Winery, and Jimmy, a sports content curator, have some firm relationship foundations to stand on. Bre's parents have been married for 30 years, and both her grandparents have been married for over 50 years. Jimmy's mom re-connected with her long-lost love after 30 years apart. Bre and Jimmy have learned from them that it takes hard work and give and take from each partner to make a relationship work.
Like many young couples today, they met through a dating app. Bre said she was attracted to Jimmy "because he has such a sweet and caring nature towards everybody and because family is really important to him." Jimmy said he was drawn to Bre "because she was very funny and super honest." They were together for about three and half years before getting married.
The Garcias know it's okay to have some differences alongside their shared interests. They both enjoy the same types of food, greatly value family, and care deeply about the people in their lives. However, Jimmy is into sports, while Bre is satisfied just watching an occasional game.
Bre and Jimmy make time together a priority, and they enjoy trying new restaurants, wineries, and breweries, watching movies, or even having a date night at home. They also like going to the beach (where they were engaged) and taking road trips. Bre and Jimmy have found that going on new adventures together helps learn more about each other and to grow together.
The Garcias try to plan something different each year for Valentine's Day to keep things exciting. One year they rented a house in Monterey; another year they enjoyed a nice dinner and an impromptu San Jose Sharks hockey game.
The Garcias may be newlyweds, but they do have some wisdom to offer. Bre and Jimmy want other couples to always be honest with their partners and, as Brean said, "love them even when you don't like them."