Day Trips from the south bay: Zipping through the redwoods… & Peanuts
Imagine yourself flying through the dense California coastal redwoods, sun peeking
through the trees, and the fresh smell of the forest filling your senses.
All this awaits you at Sonoma Zipline Adventures in Occidental, California. You don't have to go far to experience the fun. Operated by the Alliance Redwoods Christian Conference Grounds, it's an easy day trip from the South Bay.
I booked a Sunday morning zipline tour for myself, my two teens and their friend. We left early, allowing plenty of time to get there. (Rates are cheaper Sunday through Thursday.) The drive took us about 2.5 hours. As recommended, we brought along their directions because there is no cell service in the mountains.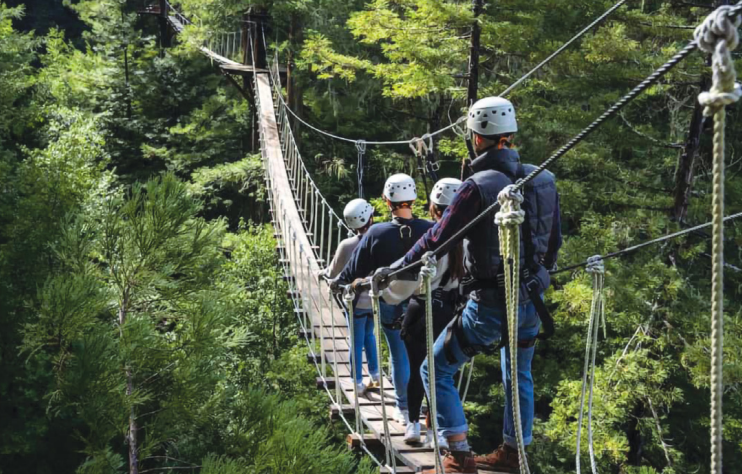 Staying hydrated is important, just don't drink too much before your zipline tour—it's a 2.5 hour experience, and there are no bathrooms up in the trees! There are two tours to choose from: the Forest Flight Tour (recommended for beginners), and the Tree Tops Tour (the one we chose). Both tours are eco-tours, and have a 45-foot rappel at the end. Our guides Aiden and Zane kicked off our group's Tree Tops Tour by leading us up a 100-step spiral staircase to get to the first zipline. They shared some of the secrets of the forest and the famous redwoods with us throughout our tour, along with some pun-filled tree jokes. They were fantastic guides— reassuring, funny, and accommodating. The most thrilling zipline stretched 1,500 feet between the trees.
We all took time to appreciate the views and yelled in delight as we flew along. Another zipline reached up to 45 mph—perfect for those who want to fly at top speeds. After the final zipline, we crossed over a suspension bridge to a platform where the guides prepared us to rappel to the ground, back to where we started. We smiled for photo ops on the bridge and on the rappel, and purchased our pictures in the visitor center as souvenirs.
Fun Facts:
If you want to make this an overnight trip, Sonoma Zipline Adventures has Tree Houses you can book to stay up in the redwoods, and they include both zipline tours, delivered gourmet dinner and hot breakfast
The Tree Tops Tour is 250 feet above the ground and reaches speeds up to 45 mph. It has seven ziplines, two sky bridges, a total zipline length of 2,907 feet (⅔ mile). The longest zipline on the Tree Tops Tour is 1,500 feet.
Important to Know:
Participants must be at least 10 years old
Weight requirements are between 70-250 pounds for safety reasons
Anyone under 16 must be accompanied by an adult
 Photos/videos: bring your own phone/camera (use one of their carriers), or rent a camera there.

Lowest rates: Monday-Thursday, highest rates: Saturday

 Bring snacks, water and lunch for pre-and-post-zipline nutrition and hydration
Tree Tops Course: 100-step uphill walk to the start of the zipline
 The Forest Flight Tour: can be done as a night tour
 Shuttle takes you from the parking lot to the course start area and back.
 Weather: dress in layers! It can be cool due to elevation.
Make a day of it
After our zipline adventure, we headed to the Charles M. Schulz Museum and Research Center in Santa Rosa, a place of tribute to the late creator of the Peanuts comic strip series, who lived in the nearby Sebastopol area since 1958.
We loved the replica of Charles Schultz's studio work space, including his drawing board used over the years. Another incredible exhibit is the Peanuts Tile Mural which is a wall mural made up of over 3500 ceramic tiles with pictures from the famous Peanuts series, with the compilation creating an image of Lucy holding a football for Charlie Brown to kick. One more outstanding exhibit is the Morphing Snoopy, which is made of 43 layers of wood depicting all the comic strip versions of Snoopy that were created over the years, morphed together from beginning to end.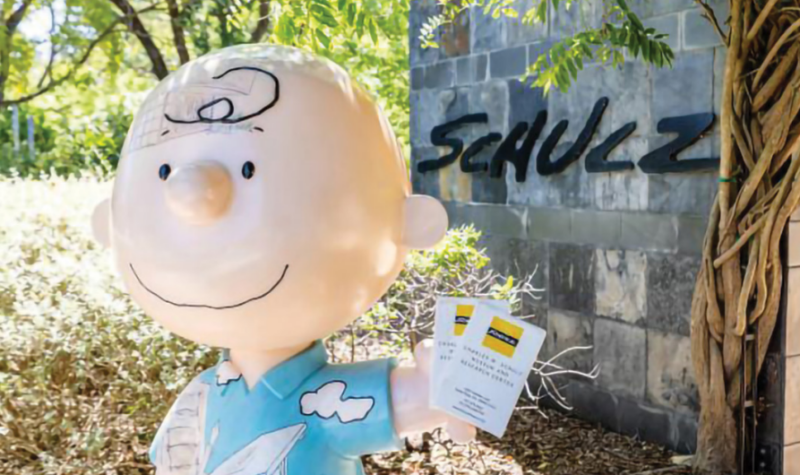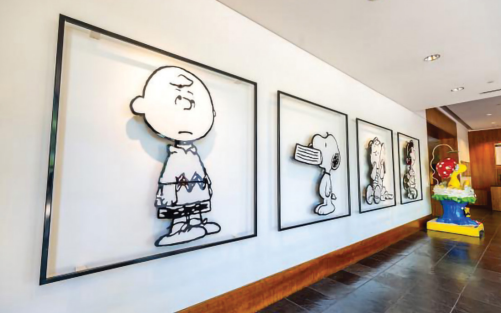 This museum is a must-see. Admission is reasonable, so spend part of your afternoon with Charlie Brown, Snoopy, and friends. There are plenty of other fun things to do in the area, so book an early zipline time to allow time after to do other things. Other great options to your day trip are: Safari West (book an early zipline tour, book the latest possible Safari tour, and bring a lunch to eat on the way), the Sonoma County wineries (do this AFTER the zip line tour), or dinner at one of many great restaurants.
We truly enjoyed our ziplining and museum visit day trip to Sonoma County. You and your family will too!
https://www.sonomacanopytours.com,
https://schulzmuseum.org, https://www.sonomacounty.com