Quiet Giants: Lovell KC Adams
Lovell KC Adams had a rough start carved out on the streets of Oakland, CA. From age 12, he was raised at Rebekah's Children's Home in Gilroy. "I was a messed-up kid when I got there. I was really damaged," KC recalled.
KC Adams, owner of Kutz and Colors Salon in Downtown Gilroy is a natural coach and mentor. He has dedicated over 40 years developing local athletes of all ages.
Finding some stability and a much safer environment at the Rebekah Children's Home in Gilroy, KC started attending local schools and making friends. KC's house parent exposed him and the other kids to the power of the ocean and nature, and how you can use that environment to recenter. He used the analogy of the waves to wash away the bad: nightmares, worries, stress; and bring in the new: hope, goals, dreams. KC also learned the strength and power of the rocks to withstand the crashing waves and shifting sands. He made many trips to the beach to observe the phenomenon and absorbed the lessons he was being taught, which he still applies to this day. "I find myself needing to drive over the hill to touch the sand and take in the ocean from time to time. It just helps me refocus and get centered. I love it there," KC shared.
While new to Gilroy and local schools, KC's affable personality, humor and street smarts served him well. He made friends easily and earned the respect of his peers through sports. He excelled in football, basketball, and track at Gilroy high school and football and track at Gavilan College. At Gavilan he enrolled in the cosmetology program. He sailed through the program, earning his certificate, and began his 40-plus year career as a hairstylist. While working full time he soon opened and operated his own salon, and started coaching football and basketball. For KC, coaching is really a second full-time career, and his passion. "I have been a coach, mentor and have had my own business for 40 years," KC said. "My passion is to work with at-risk children and to be a mentor and positive adult figure to give them every opportunity to succeed in life." His purpose is simple. "I want to save lives and to provide a positive and safe environment for our community's youth who wouldn't have the opportunity otherwise."
His early years of coaching were met with challenges—or consequences—of his days on the streets of Oakland. Though well liked and well respected by players, coaches, and parents, KC faced roadblocks during the hiring process. This happened time and time again with the City Parks and Recreation departments and school districts. Letters of recommendation were written on his behalf, supporters attended meetings, and phone calls were made, all to no avail. KC finally landed an assistant coaching job at Gavilan College, and in 2002 was handpicked to be the athletic director, head football coach and head basketball coach at the newly formed Anchor Point Christian School.
He remembers walking the soon-to-be athletic fields with school founder Steve Malone. There was no grass and the fields needed leveling. Malone cast his vision and told KC, "Imagine one day playing football out here." To which KC replied, "Imagine us winning a championship."
With a very small student body, limited resources, yet armed with a vision of fielding athletic teams, KC, Malone, and school principal Steve White, went to work to make the vision a reality. By 2006, the school fielded varsity football, basketball, and softball teams. In 2007, The 8-man Anchor Point football team went undefeated in their first season of league play. That started a three-year run of undefeated league play. In 2009 they racked up a 9-0-1 record. They were ranked first in the Central Coast Section, and 14th in the State.
That kind of record from a startup program caused suspicion at the Central Coast Section level of the California Interscholastic League (CIF). At the end of the 2009 season, Anchor Point was brought before a committee to "explain their success." Principal Steve White went to discuss—and defend—their program to section officials. After all suspicion of cheating was absolved, the league officials determined that Anchor Point fit the criteria of the leagues designation of "Model Program."
KC recalled, "We were just too good."
Quiet Giants: KC Adams A Coach For All Seasons
In 2010, KC was one of 13 coaches throughout California to be awarded the "Model Coach Award" by the California Interscholastic Federation. The presentation took place in Los Angeles at the CIF State Championship game. According to the CIF website, the distinction is given to coaches who "have served as positive role models in their schools and communities, and who have exhibited the traits apparent in the 16 principles of Pursuing Victory with Honor."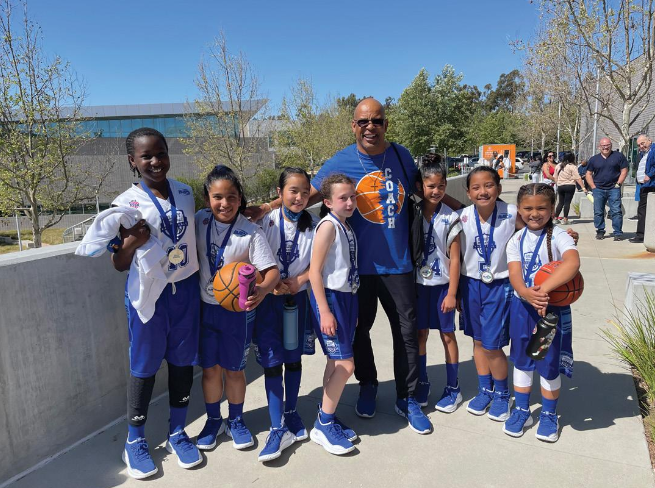 "The importance of connecting to kids when they are young is critical to helping them see a different set of possibilities than their 'normal,'" he said. To that end, KC has seen the development of youth—both those who've had good mentorship and examples of personal leadership and those who haven't.
"Anchor Point Christian was a blessing in my life. The founder, Mr. Steve Malone, was a man who had a similar vision to mine, he wanted to provide a place where kids could fit in and be accepted."
In addition to the 2007-2009 undefeated seasons, KC oversaw the building of a baseball field, a football field, and growing relationships with donors and sponsors. In all, the football team had six undefeated seasons, were ranked top ten in the State five years in a row, ranked top five in the State four years in a row, and ranked top five in the nation three years in a row. The basketball team had six undefeated seasons. Both teams were perennial Coastal Athletic League champions for those six years.
KC is quick to give credit to all the coaches he's worked with. At Anchor Point he started great coaches like Tim Pierlioni, who went on to lead Christopher High School football to a CCS Championship and is currently the athletic director and head football coach at Gilroy High School. Tim was instrumental in helping to build the championship program at Anchor Point. "I have been blessed to be around other great coaches who are also great human beings," KC said. "We've learned from and helped each other over the years."
Another fellow coach and dear friend is Marlowe Brinson. The two had similar childhoods: while KC was in Oakland, Marlowe was on the streets of Chicago Heights. For both, football was a ticket to a good education, and a way off the streets. When they met as adults in Gilroy, they immediately hit it off. By 2002, the two were planning a youth football camp to be held on the Anchor Point campus. Marlowe's son, Myles, was eight years old at the time and battling leukemia. As Myles fought the disease, the two men worked through the details of putting together a camp. At a few points along the way, they wondered if the timing was wrong. They struggled to come up with a name for the camp. KC remembers that it was Myles' attitude that inspired them to keep going. "There was no quit in him." Marlowe would often encourage Myles with "You a bad dude." To which Myles would reply, "You ain't lyin'!"
In March of 2002, just two months before the first football camp, the inspiring eight-year-old child, Myles could fight no more. With Marlowe and his family reeling from his loss, KC felt that the camp should be named in his honor, and made it official by presenting Marlowe with a plaque bearing the name "Myles Brinson Fundamentals Football Camp."
Then, in 2005, tragedy struck again; KC's 17-year-old son, JR, was killed by a hit-and-run drunk driver while on a family vacation in Mexico. JR was a standout athlete at Valley Christian High School and had earned a full scholarship to play football at the university level. That year Marlowe presented to KC the new name of the football camp: the "Myles Brinson/JR Adams Fundamentals Football Camp." Now in its 21st year, the camp draws 100 to 150 players for a weeklong football camp where character and honor take first place, and football fundamentals follow.
While most can't imagine the heartache of losing a child, KC and Marlowe have found a way to keep going to honor their sons. KC reasoned, "I had a son whose beautiful life was taken from this world by a drunk driver. This was just after we found out that he received a full scholarship. I want to teach our young community to strive for their dreams, to be responsible and not drive drunk, and be positive influences within the community." He added, "Both Marlowe and I draw inspiration from our sons, and from each other's sons. They were charismatic and natural leaders, gentle warriors, and kind." He added, "The term 'bad dude, you ain't lyin'' has stuck with me and motivates me to never give up."
"I used to yell to my son 'I see you, boy.' He would look at me coming off the field with a smile as if he could hear me. I now say this at every football and basketball game to uplift my young students as they pursue their goals and dreams."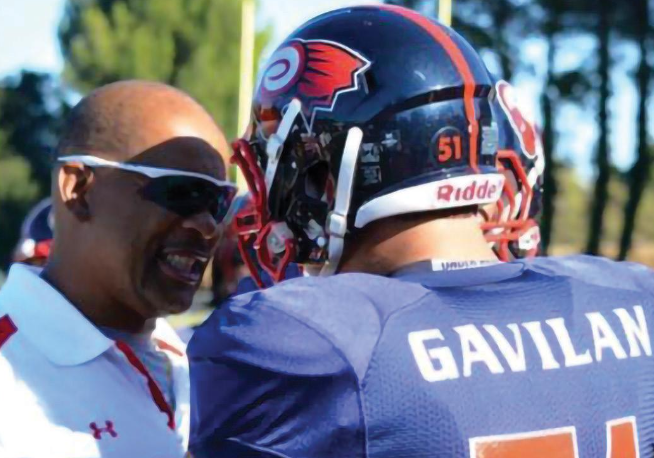 KC is especially inspired by his other children as well, and strives to make them proud every day, and to be both an example and a mentor for them. "I have amazing children. My son Quillan, daughters Sabrina, Olivia and Kaia are amazing human beings that I love and cherish."
KC also draws inspiration from the late Dr. Martin Luther King Jr. "His 'I have a dream' speech was spoken for all people. Each of us deserves to get a fair chance at life."
To honor his son, JR, and Marlowe's son, Myles, KC has formed a 501c3 and opened a basketball gym named "JR Adams Myles Brinson Sports" where he has a dream of building a full sports complex on the site. It will be a place for the whole community to come together through sports, leadership, mentorship, music, theater, and academic achievements. "So far we have built the basketball gym but we're striving to get the entire facility completed with a study hall and an onsite BBQ area," he said.
The gym is located in San Martin and currently provides basketball and sports training and mentorship for South County youth. KC rationalized, "Most kids don't want to just hang out at home. They would rather come and play sports all day." KC is currently the president of the Gilroy and Morgan Hill chapters of the 28-team National Junior Basketball Association (NJBA), a basketball league for 300 children grades K-8 focusing on fundamentals, camaraderie, teamwork, and respect.
Community is a key component of everything KC does. To him, it means a place where everyone supports each other and understands that people make mistakes. Yet, everyone deserves a second chance to make a better life for themselves and the community. "I think if we all learned to say hello more, hug more, we will find that just those two gestures will turn a community into a thriving community," he said. "There are many working in the community to mentor and build character in our kids. There will always be challenges but you can't let that stop you. Find your niche, whatever it is, and start making an impact. I lost a son—who was an athlete—and sports has a way of keeping me going. I see him in what I do every day."
He added, "I'm inspired by my son JR for his relationship with God and people. He was truly the glue that held our family together." JR inspired others as well.
Recently, a man stopped into KC's hair salon for a haircut and shared that his daughter, a former Valley Christian graduate, was recently married. In high school, the man's daughter went through a goth phase that got her singled out for her appearance and bullied. The pressure and loneliness were too much to bear and, to her, suicide seemed like the best option. A young man who transferred into one of her classes changed everything when he instantly befriended her, stopped the other kids from bullying her, and helped her see her worth. She turned things around from there and the two remained close friends all through high school.
At her wedding celebration she handed out identical necklaces to all in attendance and shared the story of how this young man saved her life.
The bride's father then thanked KC, from one father to another, as he handed him one of the necklaces his daughter had made. On the necklace was a picture of KC's son, JR.
Stories like these keep KC going. "We have to be there for the underdog, for the ones getting picked on. As a community, we can always do better." Like his son was there for his friend and others, KC is there to help anyone find the best of themselves, inside and out, as he has done for 40 years with thousands of South County youth.
KC is currently developing a website and social media presence for the JR Adams Myles Brinson Sports Complex. Until those are operational, check back here at gmhTODAY or on our website and social media for updates and more information. A GoFundMe page for the sports complex been established. To contribute to this worthy cause, visit: https://www.gofundme.com/f/jr-adams-myles-brinsonsports-complex
Lovell KC Adams has coached, trained, and mentored local athletes of all ages for over 40 years. In 2022 he founded a 501c3 and is working to make his dream of a building a comprehensive sports complex to benefit South County youth come true.