The Gilroy Taco Trail!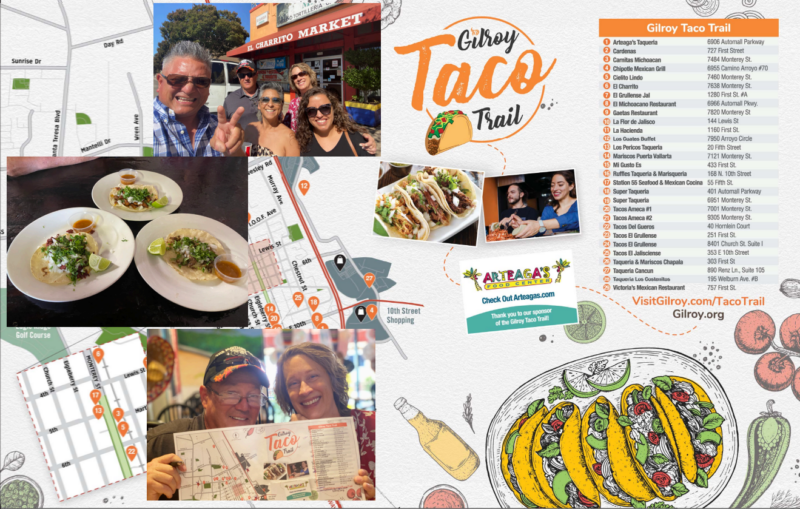 In case you didn't know, it's an official thing in Gilroy. The map can be found on the Visit Gilroy website. We couldn't think of anyone better to traverse the trail with than our friends Mike Bauduin and Karyn Corbett. Mike and Karyn lived in Gilroy for 25 years before relocating in late 2020 to Waddell, Arizona. Mike was a commercial building contractor and completed projects all over the US and abroad, and Karyn was the senior director of operations for the Service Provider Business Unit at Cisco Systems in San Jose.
Mike and Karyn are two-thirds of our "six-pack" of friends, who spent most of 2020 and 2021 in a "pod" we first called "the speakeasy club." We spent weekends hiking together with our dogs, sharing dinners, laughs and life's ups and downs. To find trustworthy people anytime is great; finding those people in tough and uncertain times is truly a gift. Like us, Mike and Karyn appreciate a great taco. Add a "beverage" and some hot salsa… muy delicioso!
Gilroy's Taco Trail had been calling us for years. We wondered: Could we complete the trail in one weekend? Could we survive eating that many tacos? Did rules or best practices exist that we could—or should—follow?
For these and other questions, we called the local experts—our friends, local legends, and founders of the Gilroy Taco Crawl, Justin and Andrea Gamble. We planned this meet-up and a few other surprises along the trail.
We timed Mike and Karyn's arrival at San Jose International Airport and our return back in Gilroy to be exactly 11:30am so we'd all be hungry and ready to get "our tacos on." After a quick stop at Casa Sanchez to allow our amigos a chance to freshen up, we hit "the trail."
The Journey Begins
Our first stop was El Grullense at 1280 First Street. For under $2, their traditional street tacos (meat, onions, cilantro, and salsa) are a great deal. Typical meat choices are: asada (beef), pollo (chicken), carnitas (pork), tripas (intestines), al pastor (marinated pork), chile verde (pork in tomatillo sauce), lengua (beef tongue), and cabeza (beef head). Between us, we ate tripas, carnitas, asada, and pollo tacos. A couple Modelo special's helped the cilantro down the hatch.
Quick note: the Taco Trail has no rules: just stop along the trail and enjoy a taco. However, we intended to take on the trail using the Gilroy Taco Crawl method: eat one taco and drink one beer at every stop. It seemed like a good idea…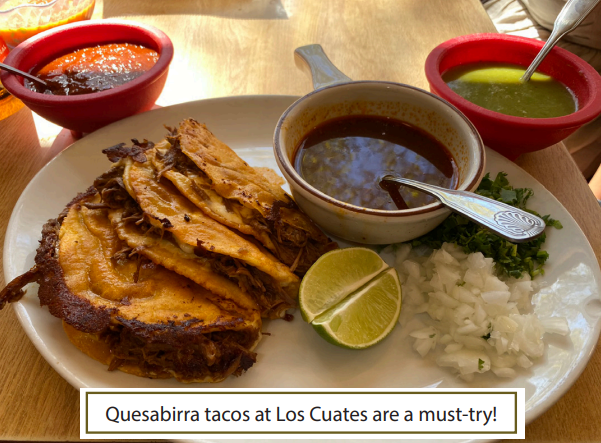 Our next stop was Los Cuates Restaurant and Seafood and Bar, located near the Outlets on Camino Arroyo. It is highly visible from the freeway, but can be easily overlooked if you're driving on the frontage road. We rolled in looking for great tacos, and were not disappointed. Karyn and Deb shared an order of Quesabirria tacos—three crisp tacos that have been dipped in broth, thrown on a grill and stuffed with melted cheese, birria meat, and topped with cilantro and onions, served with broth on the side for dipping. Birria meat is traditionally lamb, goat, or beef shank. Our server, Stephanie brought fresh, hot, corn tortillas to our table with three amazing salsas for us to sample. We also ordered a super taco with carne asada (home-made corn tortilla with meat, topped off with whole beans, mozzarella cheese, onion, cilantro, and guacamole), a carne asada street taco (meat, cilantro, and onion in a corn tortilla), and a couple Tecate beers for the boys. The food was great!
The next taco stop on the trail was El Michoacano in the South Valley Shopping Center on 10th Street. Already, the sacred traditions of "taco crawldom" were falling by the wayside. As we took our seats a smoking treasure chest was being delivered to a nearby table. We were mesmerized. Our server informed us that it was a "bubbling mango margarita." Mike and Deb broke down and ordered one to share. Staying strong for now, I ordered a Pacifico. Deb had a chile verde taco, Mike had a pescado (white fish) taco, Karyn ordered a camarones (shrimp) taco, and I had an al pastor taco. The food was great, and the presentation was incredible. This place was so good and so fun, we all wished we could come back soon… more on that later.
We walked across the parking lot to visit the in-store taqueria at Arteagas Food Center. A full-service grocery store, Arteagas has great fresh fruits and veggies, a full service meat counter, and a huge cheese counter. Their taqueria has plenty of seating and a full menu. At $2.60 per taco, you can feed a family on the cheap. Deb ordered a pork adobo al pastor (marinated pork) taco, Mike and Karyn ordered carne asada tacos, and I had pollo. The tacos were part street taco and part super taco, stuffed with tender, delicious meat. We ordered avocado and pico de gallo on top. Fabuloso!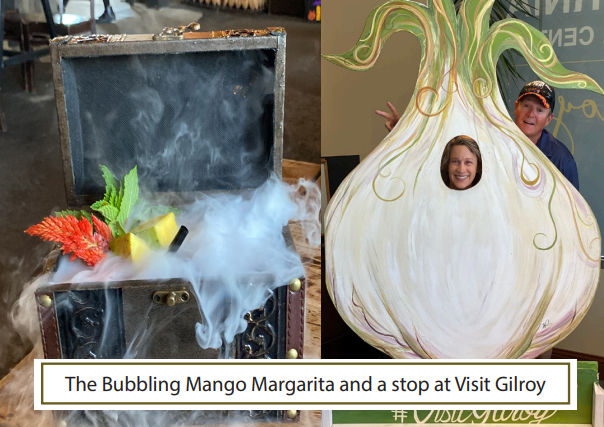 Los Pericos — Surprise #1
Although we were experienced taco eaters—having consumed thousands of tacos during our collective lives, this was our first attempt at conquering the Gilroy Taco Trail, making us rookies. Worse, we knew of the legendary Gilroy Taco Crawlers—the official name given to the participants of the annual Gilroy Taco Crawl. These hard core do-gooders eat tacos and drink beers not just for fun, but for a cause. We knew we could not hold a candle to them even on our best day. Enter Justin and Andrea Gamble.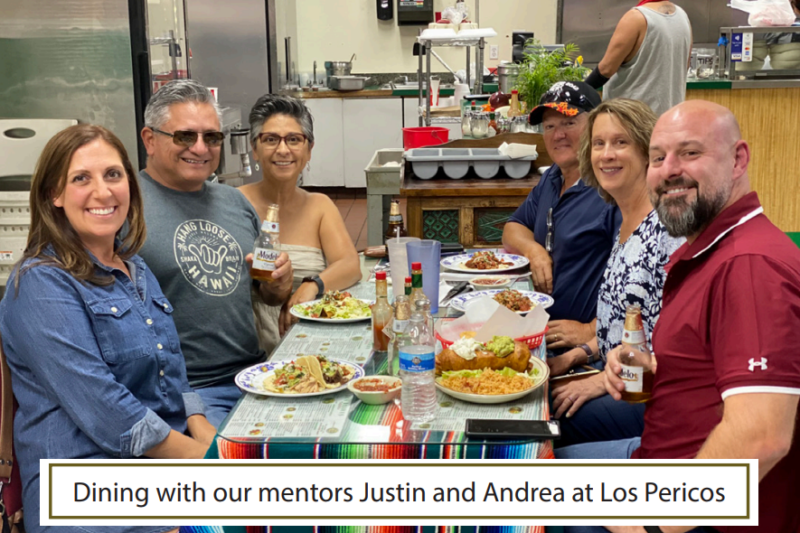 Justin Gamble launched the Gilroy Taco Crawl in 2012 as a way to get together with friends and fellow taco enthusiasts and give back to the community. Each year, the event raises money that is donated to a local nonprofit. In 2022, his 9th Annual event drew over 50 participants and raised over $1,300, which was donated to our nonprofit, One Giving Tree. Their efforts and generosity helped us make the holidays brighter for local kids and their families. Who knew tacos and beer had anything to do with Christmas? Justin and Andrea knew.
We pre-arranged for Justin and Andrea to meet up with us at Los Pericos after we warmed up at a few "taco stops." We felt their mentorship at this critical time would help us prepare for the road ahead.
We had an amazing time with Justin and Andrea, and we enthusiastically took in the lessons they were teaching. We learned that the official Gilroy Taco Crawl had a set of criteria and some best practice strategies for their event:
Each location must have a "taqueria style" menu board. Sit down restaurants with no menu board did not qualify.
Crawlers eat one taco and drink one beer per location, using personal judgment or social pressure to moderate the beer consumption.
Crawlers are encouraged to walk from spot to spot when possible, drive only when distance or safety is an issue, drink responsibly, and plan to use a designated driver if needed.
Besides the lessons, we learned about Justin and Andrea's favorite tacos and local taquerias, and shared some laughs. Speaking of tacos, Deb and Karyn shared carnitas tacos with beans, Mike had an adobada taco (marinated pork in a red sauce made with blended chiles, lime juice or vinegar, and spices), and I had a beef taco dorado (shredded beef, lettuce, cheese, and pico de gallo in crispy shell). Andrea had pollo and asada street-style soft tacos with guacamole and pico de gallo, and Justin had a chimichanga the size of a bus (a deep-fried beef, bean, and cheese burrito, crispy soft exterior flour tortilla, served topped with salsa, sour cream, and guacamole, with a side of Mexican rice). The boys stayed true to tradition; we all had a Modelo Especial to cleanse the palete. The food was incredible and received six thumbs up. Los Pericos has a full menu of lunch and dinner items, a kids menu, and traditional Mexican and American soft drinks and beers. Always great and worth the wait.
Loaded with intel and encouragement from the Gilroy Taco Crawl's first couple, we said "Adios y muchos gracias!" to our mentors, and headed back out on the trail.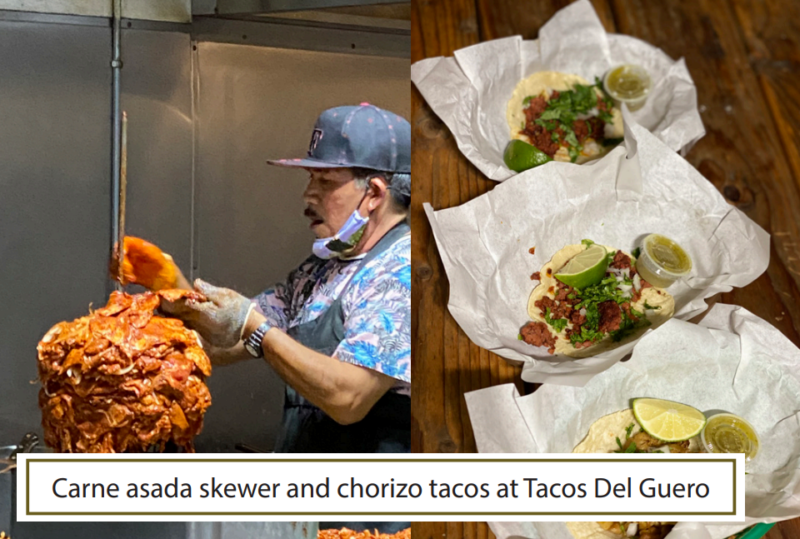 Night was upon us. Guided by the scant streetlights, the tall-as-a-small-man downtown tree lights, and a few illuminated business signs, we headed south to Tacos Del Guero, located in the old Garcia's Card Room at 40 Hornlein Court, off Monterey near 7th Street. Downtown was buzzing as we strolled past The Bartenders Union and Promised Land, and restaurants with people bustling in and out. At Tacos Del Guero, we had a few laughs with owner John Hernandez, spied on some carne asada getting sliced off the slab, and enjoyed some great tacos. I had been looking for a good chorizo street taco all day, and I found one here. Deb and Karyn also shared a chorizo taco, and Mike had a taco con pollo. Mike and the ladies shared a horchata (a sweet cold drink made with rice, milk, vanilla, and cinnamon, served with ice) and loved it. I paired my chorizo taco with a cold Modelo!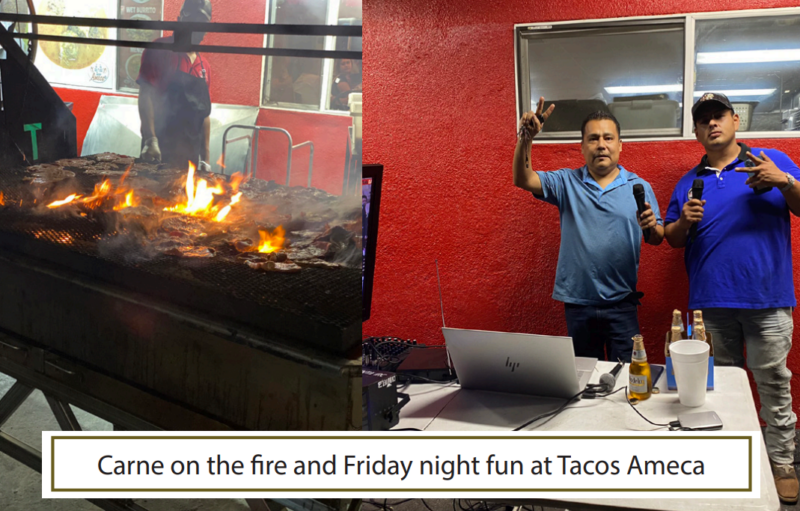 Next stop was Tacos Ameca on Tenth St. and Monterey. Crossing over to the West side of Monterey at 7th, we strolled past the thriving businesses between 7th and 8th streets on Monterey, including the Aloha Club, A1 Cuts, Alaska Ice Cream, other retail and apparel shops, hair stylists, tax preparers and notary services, a bustling Gilroy Valley Market grocery store, and ROM's Auto Repair on 8th and Monterey. While most service-based businesses were closed, happy folks greeted us as they came and went into the open establishments as we strolled along.
Tacos Ameca was buzzing with a full barbeque grill loaded with meat, like they do most nights. A duo karaoke team entertained the outdoor diners, and happily sang most of the songs! I tried to encourage Mike—who plays a mean guitar and loves music as much as I do—to go up and belt out a "canto," but he was too focused on the food and drink.
Everything at Tacos Ameca is outstanding. They load their plates with huge portions, do not skimp on the meat, add peppers, radishes, grilled onions, and a host of other goodies to make their tacos a full meal. They have a complete menu with ala carte items, combos and small plates. We ordered their most popular meat, Suadero—or brisket, for Mike and myself. Deb ordered cabeza, and Karyn ordered carnitas. Our tacos came with peppers and lime, and topped with cheese and avocado. Deb and Karyn shared a horchata, the hombres had Modelos. Nosotros estuvimos muy felices! (We were very happy!). We picked a great place to cap off the night.
We walked back up towards Fifth Street on Monterey Road from Tenth Street on a perfect night in Downtown Gilroy. Getting back to the car, still stuffed from a day of tacos, we realized that our plan had one fatal flaw—we were all in our Mini Cooper.

Day 2: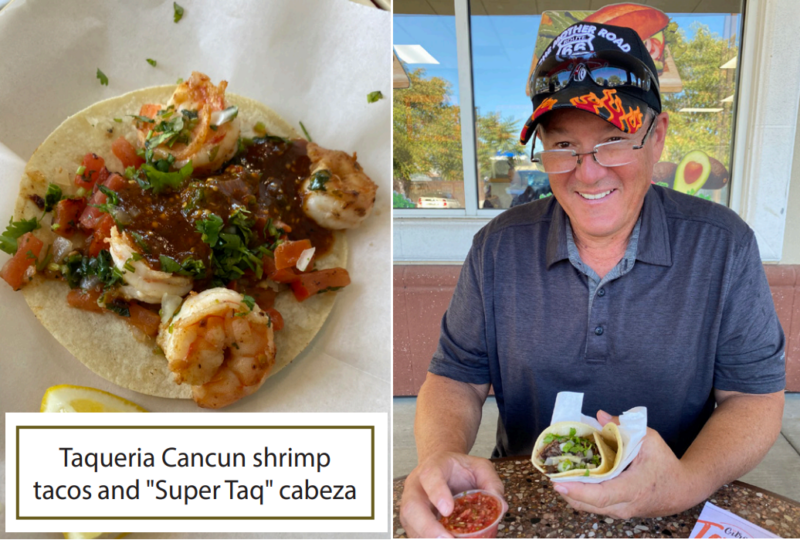 We started out at Taqueria Cancun Fresh and Grill at 890 Renz Lane (near Best Buy). Another great place offering a full menu with Mexican seafood, oysters, tacos, burritos, menudo, caldos (soups), nachos, and so much more. Breakfast shrimp tacos for Mike, Karyn, and me. I also had a carne asada taco. Deb had a tripitas taco (small animal intestines, boiled then grilled to a crisp). Both Deb and I grew up eating tripitas and other animal products like lengua (tongue), cabeza (head), etc., so we're kinda cool with some foods that others may not have ever tried—or may be repulsed by. That stated, Deb commented her taco was as good as she has had—that's a big statement. Taqueria Cancun does not skimp on their food portions. The street-style tacos were loaded with meats, cilantro, and onion. We all gooped on plenty of salsa to wash down the Modelos and a shared horchata for the girls. We had a great breakfast.
Hardcore, but great.
Next stop—Super Taqueria. "Super Taq" is always worth the visit, always incredibly good, and always cash only. Su tarjeta no vale nada (Your card is no good here!) The food portions will easily satisfy a pro linebacker, or a teenager. You can feed a family on a budget here. Mike, Deb and myself had cabeza tacos. The cabeza was grilled crispy on the outside, yet tender on the inside. The flavor was incredible. These were the best cabeza tacos so far! Karyn had a great carne asada taco. We swooshed a couple Modelos to cool the red and green salsa we added from their self-serve salsa bar.
A short walk down Tenth Street, we arrived at Ruffles Taqueria. Ruffles is located in building once occupied by Joe's Italian Restaurant location at 168 W. Tenth St. Ruffles offers tacos, burritos, menudo, seafood, and traditional Mexican plates. They also serve aguas frescas (fresh waters made from fruits, rice and sugar). Deb and me had tripas dorados (crispy intestines), Mike had cabeza, and Karyn had carnitas. We also ordered chicharrones (fried pork skins) for the table. If you've ever had "pork rinds" in a bag, you've had chicharrones. Best when super dry and crispy, they are also good when a little undercooked. Did I mention Modelos? Yep—tradition.
Moving on foot we headed East to Monterey Rd. The south stretch of Monterey Rd from Tenth to Fifth Street was thriving. We passed kids getting haircuts, moms running into grocery stores, folks eating breakfast and lunch outdoors. It was great to take it all in. No one we crossed paths with knew we were on a mission. Just as it should be.
We headed straight for Station 55 Seafood and Mexican Cocina. This place is a local favorite—and a well-kept secret. They have incredible daily specials and a full bar. They make extraordinary cocteles (seafood cocktail with onions, cilantro, shrimp, tomatoes, onions and avocado with clam and tomato juice). Yes—you can have it spicy and with or without alcohol. Their breakfast, lunch, and dinner menus rank right up there with the best Mexican restaurants in town, and they make on of the best albondegas (Mexican meatball) soups in the South County. My go-to lunch here is their enchiladas suizas con pollo (chicken enchiladas in a green tomatillo sauce, served with rice and beans). If you haven't tried Station 55, you should!
Back to tacos—Deb and Karyn had great shrimp tacos. I had the chorizo, and was now on a mission to find the best chorizo taco. This one was very good. Mike had a packed carnitas taco that was very good. Modelos helped round out the food. Salsa was great. This place is a gem.
El Charrito Market and Surprise #2
On foot, we hit the streets. Up Fifth to Monterey Rd. North to El Charrito Market. This family owned grocery store in the heart of "Old Gilroy" has been a staple for generations. As kids, we would walk to El Charrito Market to buy loads of candy, pack our shirts and pants pockets full, then sneak our candy into the Strand Theater to watch the latest horror flick or Bruce Lee movie. Theater owner and local legend, Jack Peters, likely knew we were all up to something, and he would bark at us to go get in our seats instead of milling around the lobby. Yet, he would always let us slide. Jack Peters was the best in many ways. I long for the Strand Theater and the old marquee to return to downtown Gilroy… one can dream.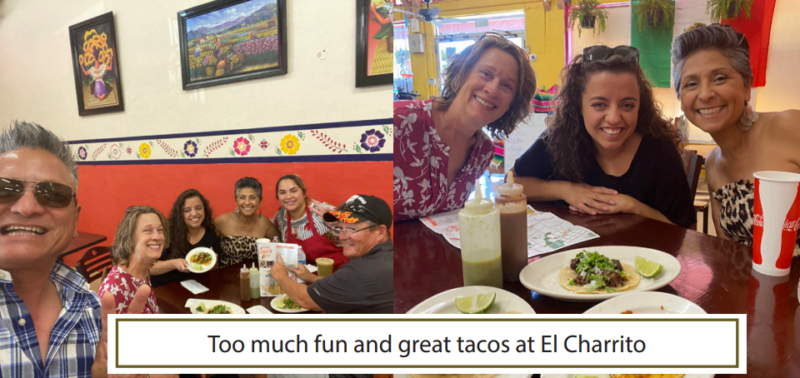 Since those early days of sneaking candy into the movies, El Charrito has undergone some changes. They now offer a full sit-down restaurant right inside the store, great tacos are just the start. Still in search of a great chorizo taco, I ordered one and would order it again without hesitation. Mike had the carnitas taco, and Deb and Karyn shared a cabeza taco. I took a break from having a Modelo—which officially makes me a rookie "taco trailer" and a non "taco crawler." It was a tough call, but we all have to live with our choices. Mike went off the rails and ordered a healthy verde quema grasa (a natural green juice blended with cacti, pineapple, grapefruit, celery, perejil (parsley). I wondered, "what was happening to us?"
We pre-arranged Nayeli Ceja-Anguiano to crash the party. Nayeli and Karyn go back years with us to the Gilroy Sunrise Rotary Club days, the Gilroy Chamber of Commerce, and a few other local orgs. We were having so much fun, our server joined the party and sat down with us to share some laughs. She gave us great personal service and reminded me why I love Gilroy. Get here and take in their full menu of great food and healthy drinks… if you're into that!
El Flor de Jalisco Market and Taqueria
We rolled out of El Charrito heading south on Monterey to Lewis Street. We hung a left and proceeded "over the tracks" which, when translated, means one block east. It was there we came upon El Flor de Jalisco. This diamond of a tienda and taqueria is located at 144 Lewis St. This place is the OG bomb! Go through the left side entry door and you're in a cozy but loaded tienda de comestibles (grocery store). Head in on the right-side and you are at the counter of a small but mighty taqueria staffed by the hardest working people we saw along the taco trail. I mentioned I was on the hunt for the best chorizo taco. The young woman taking our order gave me a look and asked,"Especial?" I knew I found it. They have a secret menu and chorizo tacos are just one of the items.
Mike and Karyn shared an asada taco, Deb had tripas again, also good. I had the secret menu chorizo taco… best ever. These classic street tacos had slightly crispy soft tacos, loaded with meat, cilantro and onions. We covered them in a nice salsa they provided and munched them down with smiles. No beers at this stop—just serious tacos and water. We considered the tacos to be right up there with the best in town. We were done and it was time to go. Vamos por mas tacos y cervezas!
Carnitas Michoacan and Surprise #3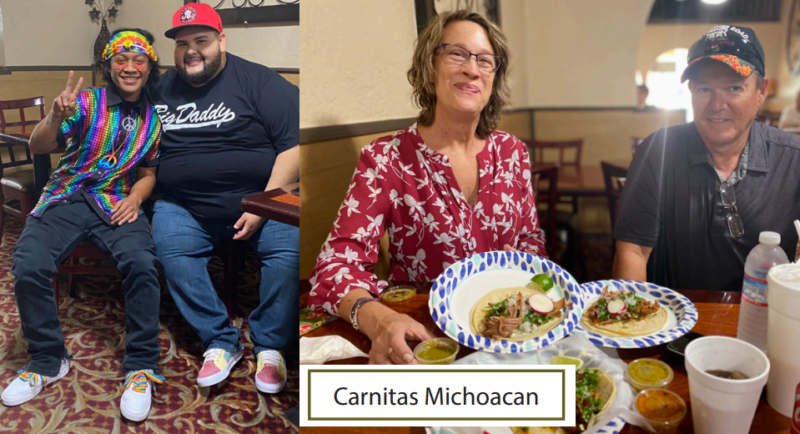 Rolling into Carnitas Michoacan on foot, we lucked out a bit. Home of amazing carnitas by the pound, the line is usually pretty long—but always worth the wait. Weekends are especially busy. However, we hit a pocket of calm in-between the waves of people normally in line. Realizing we arrived in the front row, we ordered quickly. Mike, Deb and Karyn had carnitas tacos, I opted forthe chorizo taco, and discovered it was too close to call between the last stop and this one. Their green salsa was voted the best of the day. And as we munched our street tacos, in walked Kneaded Bakery's Chef Carlos Pineda, Catering Chef Keshon Southy, and Catering Manager Andrew Briggs. These three local superstars go back a long way with Karyn through Rotary, Chamber, and Kneaded events over the years. Karyn has also supported Kneaded by having them cater events and parties for her in the past. So when they walked in it was a nice surprise.
We hung out for a while there, laughing and chatting it up with the Kneaded crew. I opted for a Coke® which confirmed I was not a true taco crawler. Mike had a horchata. Deb and Karyn opted for water. I mean, at our age we should be proud of the effort thus far. I just wasn't sure I could face Justin and Andrea ever again.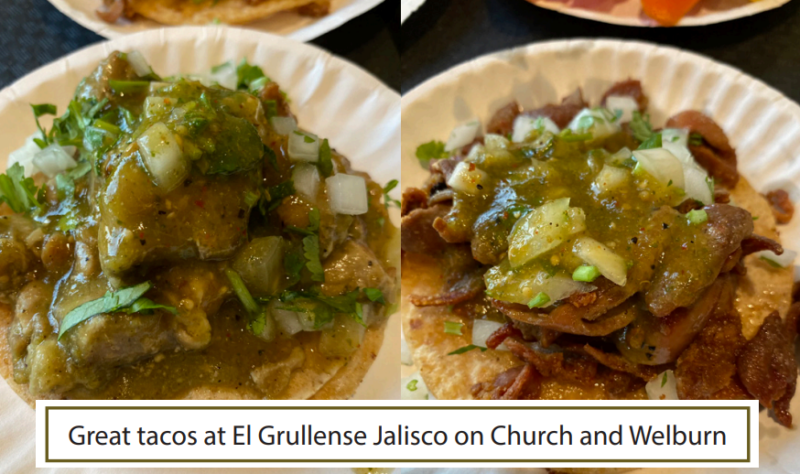 El Grullense Jalisco
We stuffed ourselves into the Mini Cooper and headed to El Grullense Jalisco on Church St. and Welburn Ave. I ordered a chile verde taco. OMG it was great. Deb loved her tripas taco, and Mike had a great carnitas taco. Karyn had an al pastor taco and exclaimed "yummy!" I got back on the wagon, and washed down my taco with a Modelo. Mike had sangria in a bottle, and Deb had horchata. The owner was super cool and his classic street tacos with cilantro, onion, and pickled carrots on the side were great. At 2.75 ea., they were also a great value. Moms and dads, load up the kids.
Los Costenitos Restaurant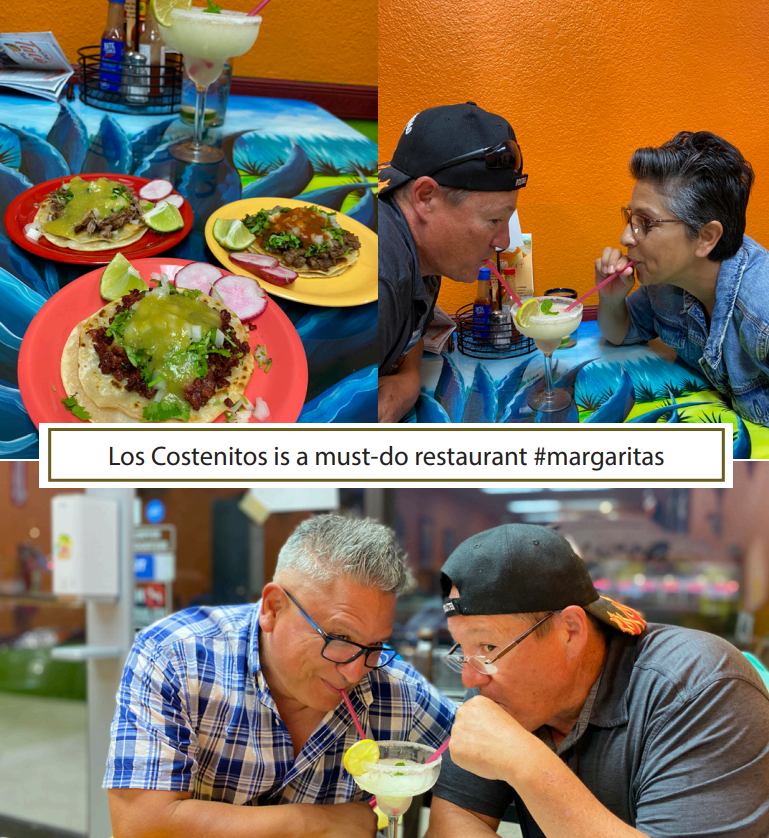 A short walk across Church Street we found our next stop, Los Costeñitos Restaurant, next to Pinocchio's Pizza. Mike ordered the carnitas taco. Our extraordiany server Melanie informed us they had run out. When Mike began to tear up, Melanie said reassuringly, "let me see what I can do." Deb and Karyn ordered asada tacos and proclaimed they were the best they had. I ate a good chorizo taco. Melanie came through for Mike, finding just enough carnitas for one stuffed taco. As Mike ate, he began shedding tears of joy, proclaiming this was the best carnitas taco of the journey. It also could have been the margarita he and Deb shared. Our traditional-style street tacos were filled generously with meat, topped with cilantro, onions, and green and red salsa. Pickled radishes and a slice of lime garnished our plates. Muy delicioso!
Los Costeñitos is a little tucked in, and located on a busy intersection—so it can be easily missed. However, I would suggest you aim for it. The food is great, the décor is cheerfully themed, very colorful, and festive. Their full menu features lots of delicious food. And of course, our wonderful server, Melanie, took very good care of us!
Cardenas Market
Cardenas Market is a chain Mexican grocery store with an amazing produce department and a food counter. Fresh prepared foods include rice, beans, moles, tacos, and burritos of all sizes and meat choices. I had an awesome chile verde taco. Mike, Deb, and Karyn had carnitas tacos they considered "great." Mike had what he described as "the best" horchata of the day. I don't think I had a Modelo here… but I can't remember!
A Return to the scene of the crime, and surprise #4
Worn out, we jammed into the Mini Cooper,—which was smaller now. We intended to head for Casa Sanchez. Instead, we peer-pressured ourselves into revisiting the most creative and lively taco stop of the trail—El Michoacano. Rolling up at night was much different than the mid day visit on day one. This place was hopping. The table behind us—a "girls night out" table of ten or so ladies who had been there a while before we arrived, partied like rock stars all night. They were having a blast climbing under their table, taking shots, and singing aloud for the entire place to… enjoy.
Another group rolled up in their custom low-rider cars and parked right in front. These cars were beautiful—a baby blue 56 Chevy Bel Air and a 63-ish Chevy Impala convertible. I hope they make it out to the Gilroy Car Show this summer.
The drinks were spectacular—I mean, these were fit for a cruise ship. Karyn and Mike's former neighbors, Lisa and Ray Blagof, joined us to end the night. We ate more tacos, shared some amazing drinks, laughed, and yelled across the table to get our words in. We hung out for hours and had a great time. You definitely want to go to El Michoacano on a Friday or Saturday night for the festive vibe. It was so much fun it should be on an official "local area must-do" list.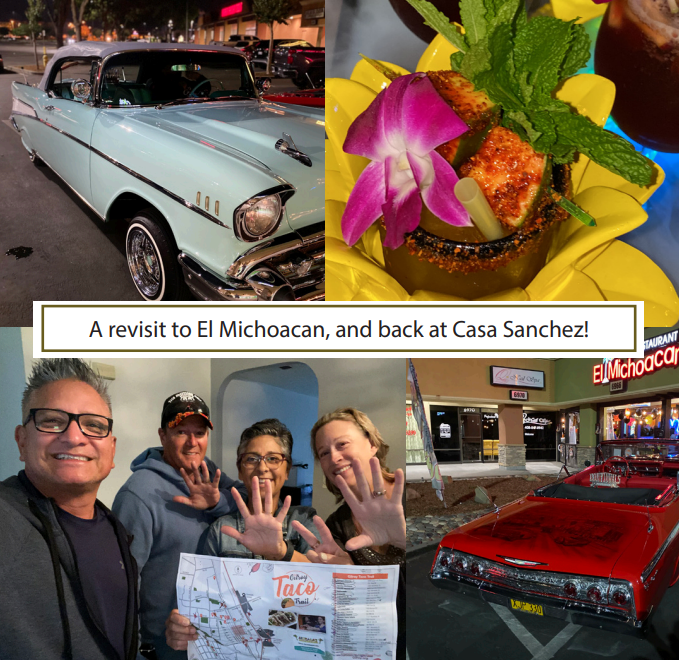 At the end of the night, we stuffed ourselves back into the Mini Cooper and finally headed to Casa Sanchez for some much needed rest. We hit 17 taco spots (18 counting El Michoacan twice). We fell far short of the 33 taco stops on the Taco Trail, and we could not hold a candle to Justin and Andrea Gamble's seasoned Taco Crawl crew. But, we gave it our best shot. This was a true lesson in stamina, and we put in a seriously mediocre effort. Still, we gave ourselves an "A" for effort… or is it an "A" for asada?
Check out the Gilroy Taco Trail. You will be glad you did— once the food settles. Sombreros off to the makers of these great tacos all over Gilroy. We enjoyed our time on the trail, ate great tacos, met great old and new friends, and completed our research for this installment of "Dining Out, with Friends." It's all about the research. Saludos!