Christopher High School Marching Band, led by Drum Major Tyler Arakaki, marched with precision in Gilroy's Veteran's Day Parade on November 11, 2022. Tyler was one of a select few chosen to represent the United States as 2023 All-Americans for the London New Year's Day Parade in London, England.
The Veteran's Day Parade was Gilroy's first and was a very well-organized, entertaining event, organized to celebrate our local veterans. Hundreds of onlookers lined the parade route, showing their support and gratitude to our veterans.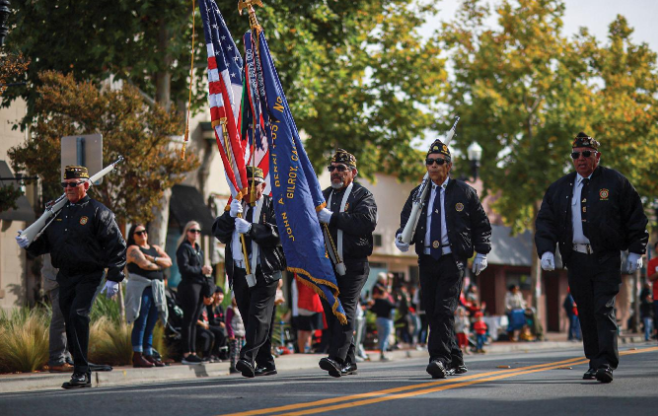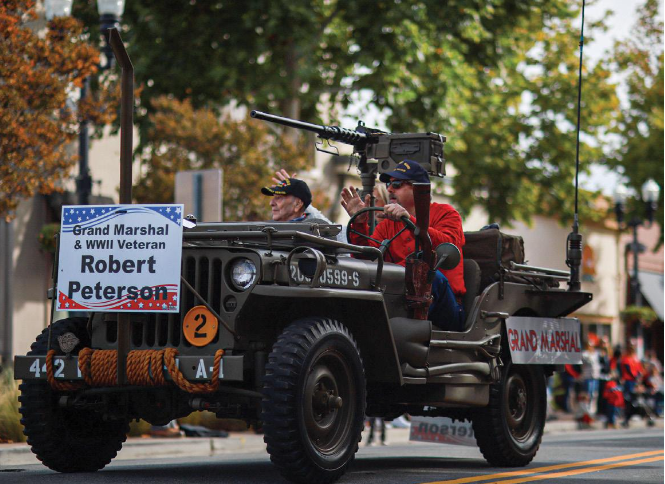 Morgan Hill resident and Veteran Tim Edes, driving his 1944 WWII Ford Military Jeep, which boasts a .50 Caliber machine gun and the original working radio. escorts the 2022 Veteran's Day Parade Grand Marshal, Robert Peterson, a WWII veteran and Purple Heart Recipient. The Gilroy Color Guard, made up of local veterans from VFW Post 6309 and American Legion Post 217, led the parade north on Monterey Rd through Downtown Gilroy. Parade-goers lined the streets to show support for our local veterans. Master Seargent and Post 6309 Chaplain, Jesse Sanchez rode with the "Vets on Bikes" to close out the parade.
Michelle and Jace Hider, with children Colton (14), Kylie (12), Bristol (9), and Sonoma (9), put over 40 hours into creating a float to honor the WWII American flag raising on Mount Suribachi on the Pacific Island of Iwo Jima. The commitment to build the float was intended to show best friend and Veteran Kenneth Pacheco the Hider family's deep appreciation for his and other veterans' service.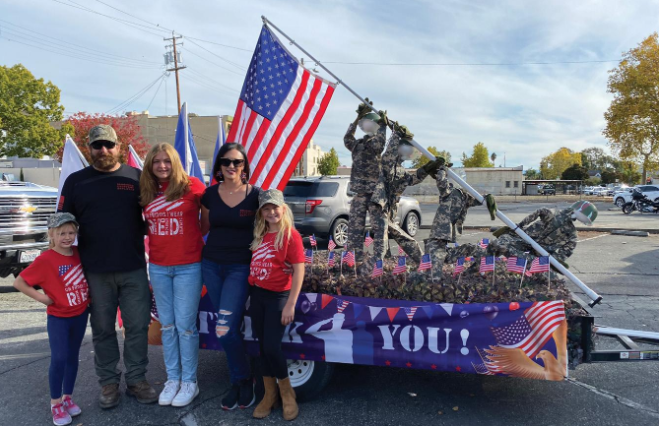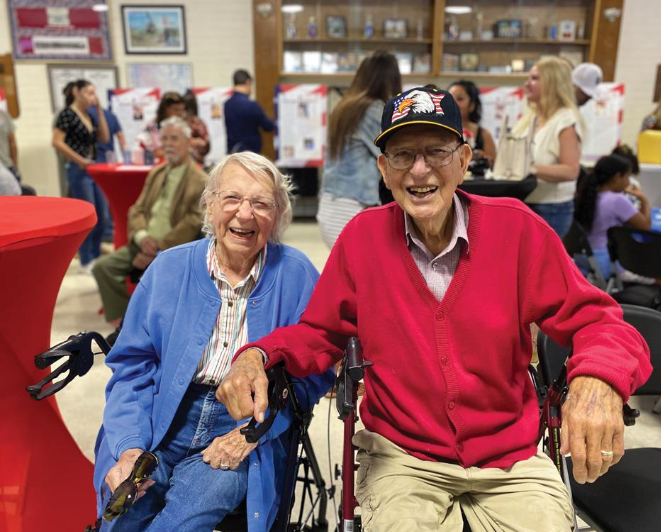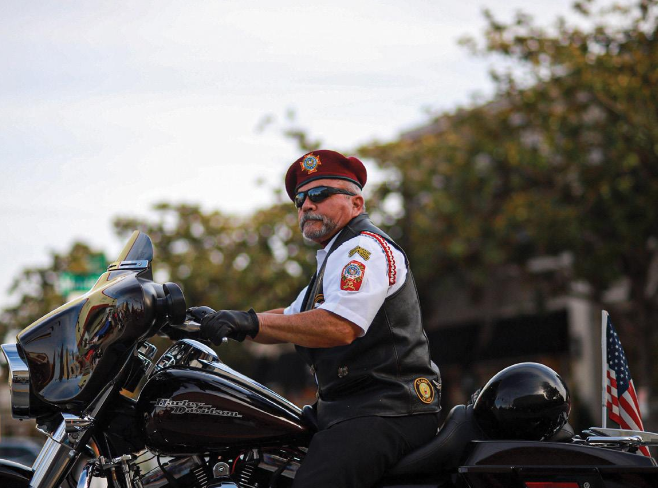 Gilroy WWII Veteran Al Gagliardi and wife of 75 years, Betty enjoy the festivities at the "Salute to our Veterans" event at the Gilroy Veteran's Memorial Building on October 1, 2022. The event was hosted, organized, and facilitated by Leadership Gilroy's class of 2022 in partnership with the Santa Clara Valley Memorial District's Executive Director, Christine West and VFW Post 6309 Chaplain Jesse Sanchez, a 20-year Veteran, US Army. The event and fundraising efforts by the Leadership class raised just under $74,000 for the veterans much needed kitchen renovations. Gagliardi served in the Pacific and was the founding Commander of Post 6309 in 1946.
The "Salute to our Veterans" event was very well attended and as you can see, it was enjoyed by all. We saw lots of friendly Gilroy faces who came out and supported this great fundraiser.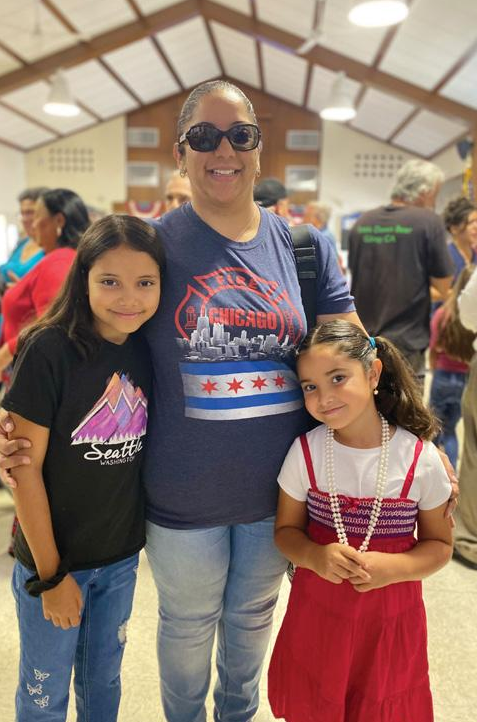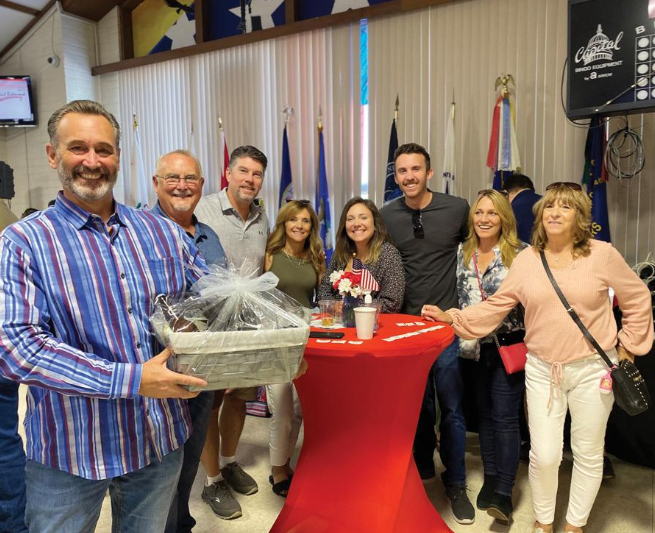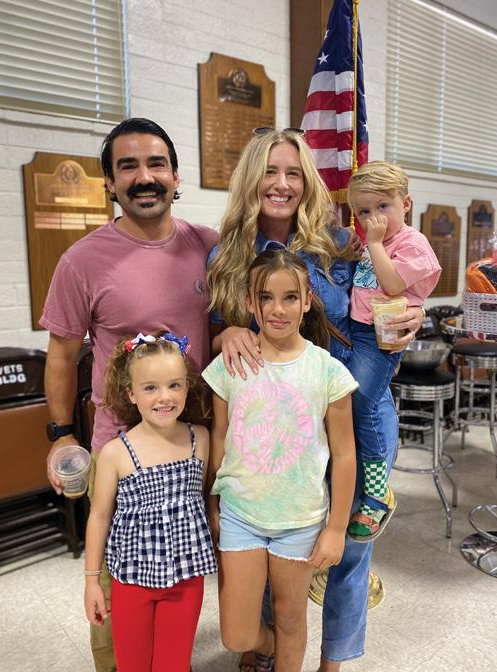 Have you checked out awesome Austin Orlando's slime creations? Find him at the Gilroy Farmers Market at the Outlets, along with his dad, the amazing Robert Orlando of Alta Woodcraft. Visit: facebook.com/altawoodcraft.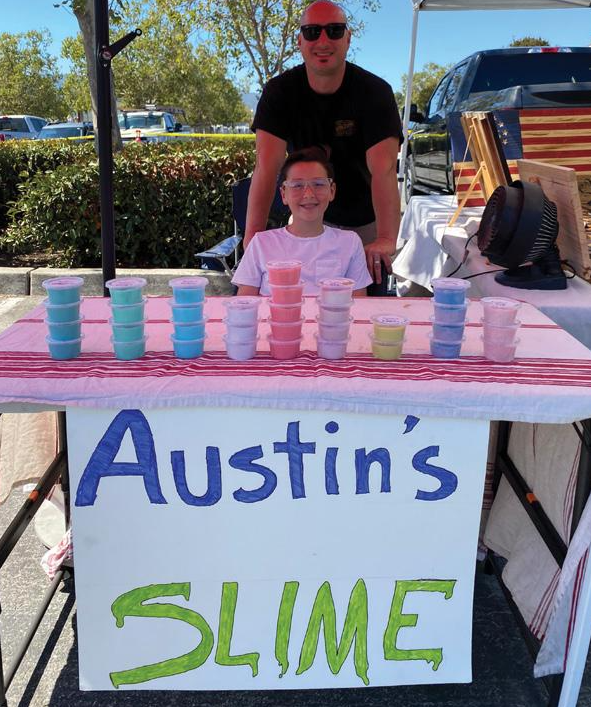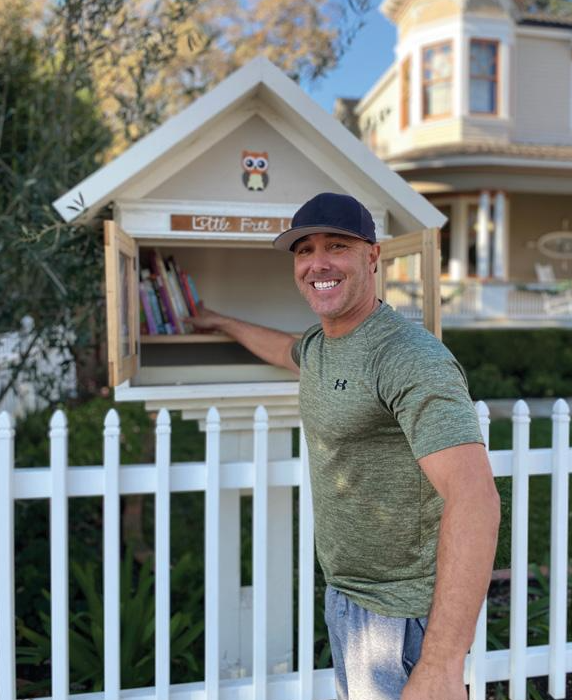 When Leadership Gilroy's Mike Luevano heard that the Little Free Library on Eigleberry Street between 4th & 5th got raided, he took it upon himself to replenish the entire library from his own family library. #welldone.
We met up with George Arrivalo and Tony Lozano who work day-in and day-out picking up trash in and around Gilroy for City Team and St. Joseph's Family Center all over Gilroy. Their hard work never ends! #thankyou
Morgan Hill's Sidewalk Saturdays are a fun way to get some walking in while shopping local vendors right in Downtown Morgan Hill. We ran into Julie and Alyssa Firato from Love of Gold Vintage who cheerfully greet patrons and share their amazing jewelry. Over 30 vendors line the sidewalk along 3rd Street, Saturdays, from 9 – 1, September thru November. While your there, stroll on down to the MH Farmers Market, happening every Saturday from 9 – 1. Check out: facebook.com/MHfarmersmkt and: loveofgoldvintage.com / info@loveofgoldvintage.com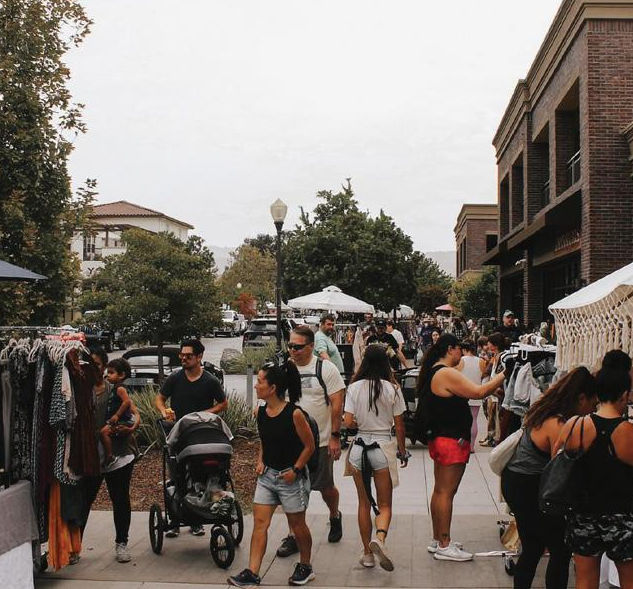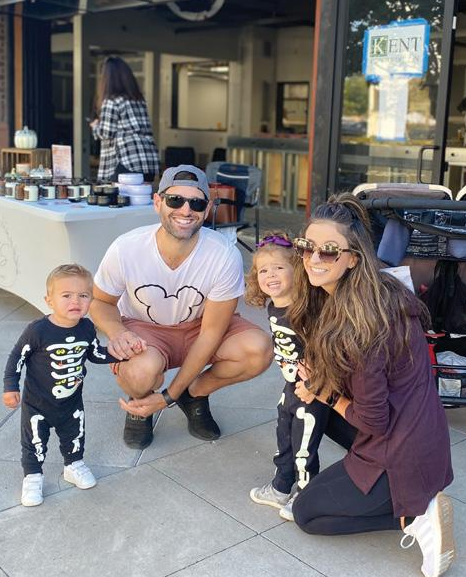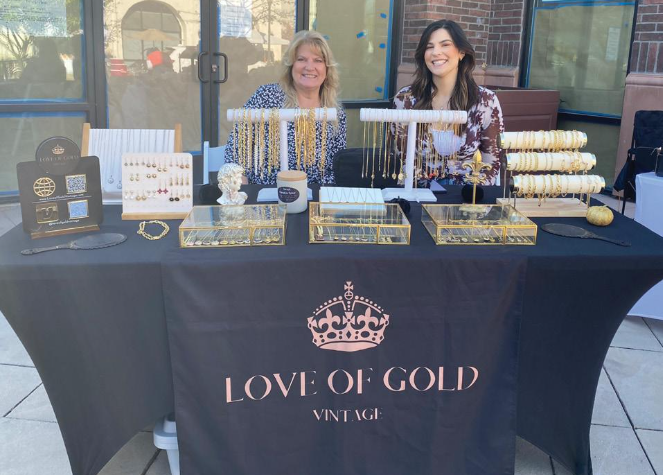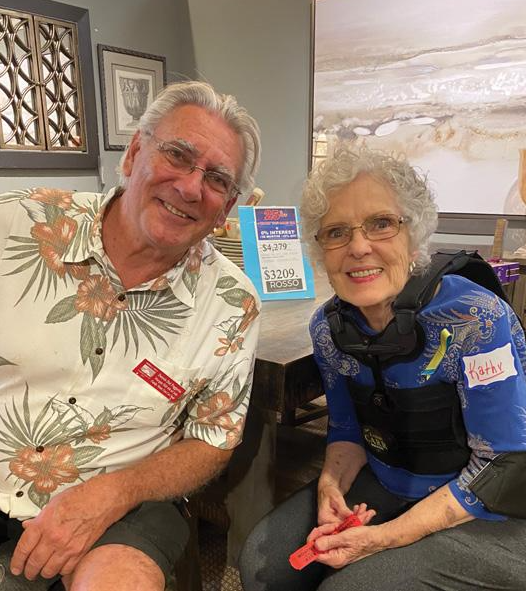 Shiny Happy People: there's nothing better than catching people out these days. Whether we are working, shopping, doing chores, hanging with kids in little skeleton jumpers, or spreading joy and happiness, its great to see everyone out and about! Of course we ran into some of our favorite people doing their thang, like MH Chamber President Nick Gaich, Freedom Fest Music Man Dennis Dal Poggetto, and MH Historical Society's Kathy Sullivan, one-half of the first couple (with hubby Brian) to receive the Morgan Hill Leadership Excellence Award in 2022. At other holiday mixers we ran into power couples Elvira and Jaime Rosso, Realtor Tina Tovar and hubby Carlos, Community Solutions CEO Erin O'Brian and St. Joseph's David Cox, and solo power people like Cal SOAP's Erin Gemar and Rachelle Cariglio, and Realtor Lisa E. Fleming. Always a joy to run into Quilting Queen Marianne Peoples, local legend Sam Bozzo, Gilroy Police Foundation's Mary Donohue, Gilroy Chamber's Jude Miranda, and Rebekah Children's Services Christophe Rebboah.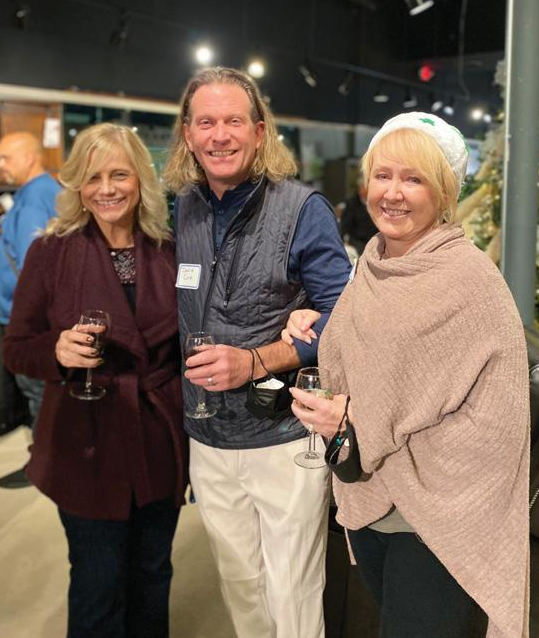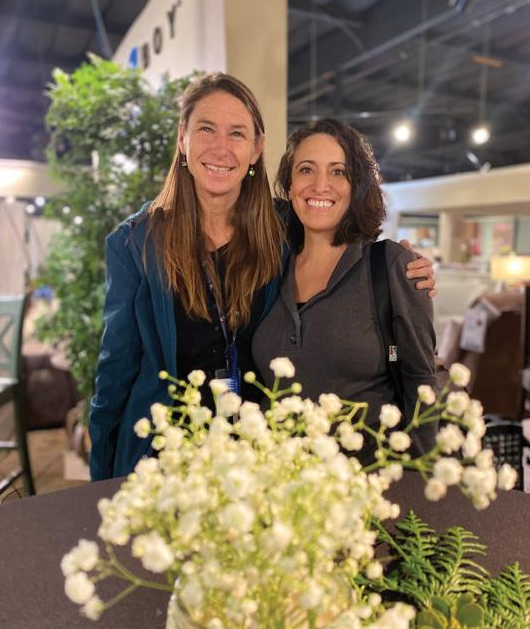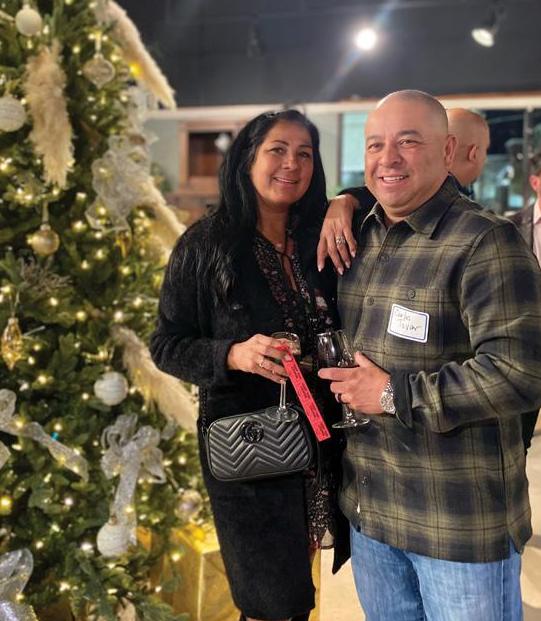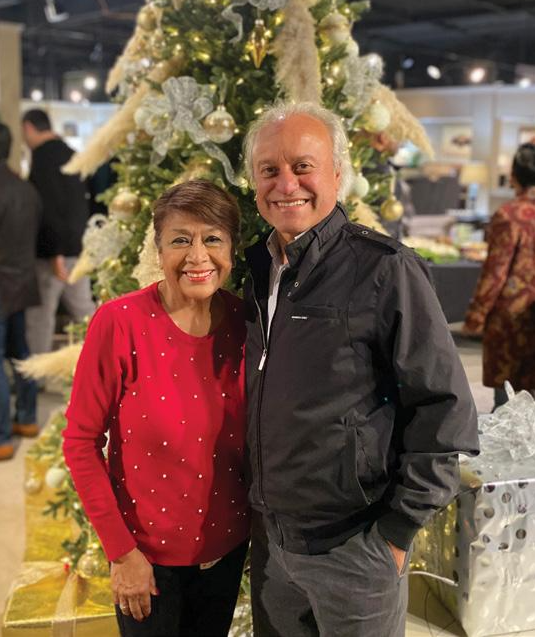 We ran into the Grim Reaper and his entourage, the Pour Me Tap Room Crew, and Uncle Papa's BBQ at the Gilroy Downtown Halloween Beer Crawl. The Pour Me Tap Room crew has been working hard for their planned opening later this year. Uncle Papa's BBQ Owners Monica & Daniel Hill started their family-run business in their backyard, smoking that sweet oak smoke goodness for family and friends. The requests and demand spread and they quickly outgrew our home. Now they continue to share their love and passion for that oak smoked goodness everywhere. For research, we had tri-tip, ribs, chicken, brisket, beans, and mac & cheese. Everything was done to perfection. Add to that, the entire crew was cheerful, helpful, and having a great time serving up huge crowds. Check out: instagram@uncle_papas_bbq & www.pourmetaproom.com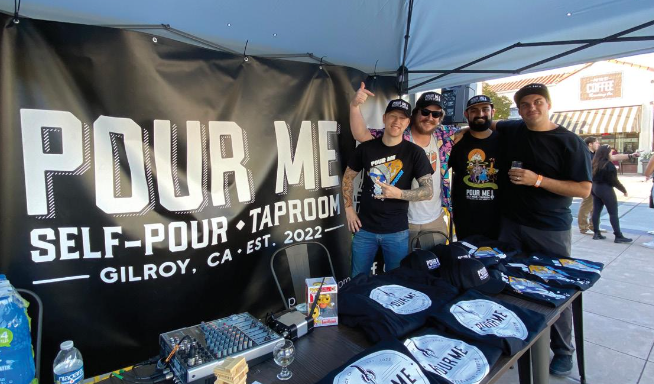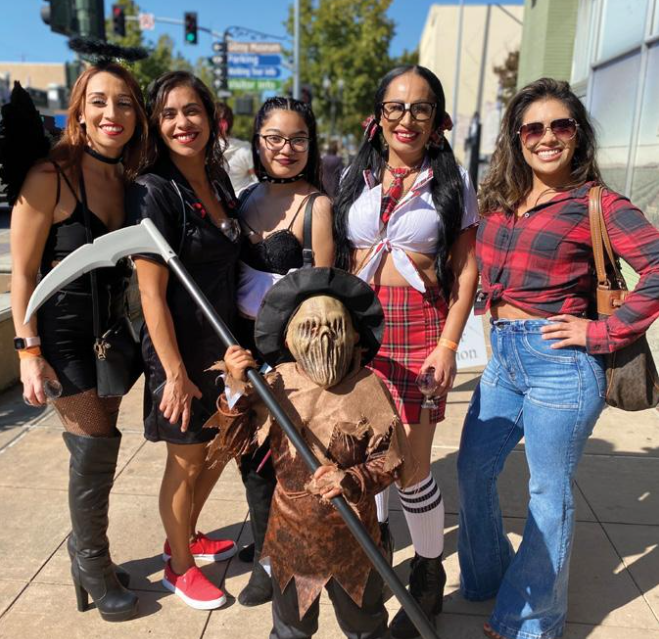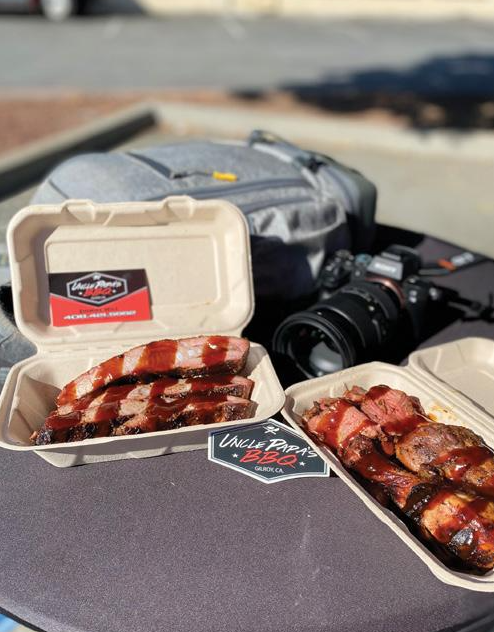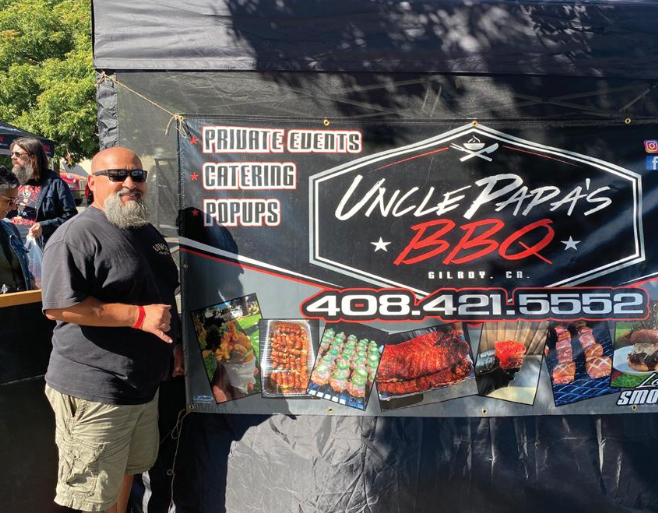 We popped into Kneaded Bakery to catch Production Chef Kishon Southy knocking out some fresh baked cookies for an order. Kneaded Bakery offers baked goods and catering services for private parties, special events, and more. To date they have graduated thousands of kids through their culinary academy. Check them out at: www.kneaded.com/ 408-846-2152 / ksouthy@kneaded.com.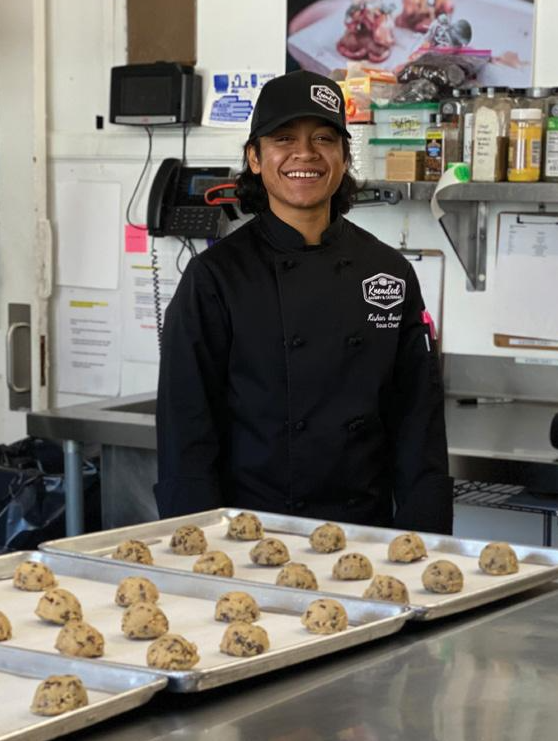 Sticking with food, we hit two great spots on Fifth Street: Station 55 and Los Pericos Restaurant. Both places have great menus and awesome food. Los Pericos is the go-to for breakfast burritos on the run. At Los Pericos, Yissel and Christian always offer great with a welcoming smile. Checkout: Los Pericos – 20 5th St, Gilroy, and: Station 55 Seafood and Mexican Cocina – www.station55cocina.com / facebook.com/station55mex