Exploring African American History with Jan Batiste Adkins
"It energizes me to share history with people of all ages and backgrounds. I absolutely love it" – Jan Adkins
Jan Batiste Adkins has transformed her passion for history into a successful career as an author, educator and lecturer. But there is more to her story. This wise and soft-spoken woman is creating a legacy by preserving California's rich African heritage and sharing it with others.
Adkins is the author of three historical nonfiction books in the "Images of America" series by Acadia Publishing: African Americans of San Francisco (2012), African Americans of Monterey County (2015), and African Americans of San Jose and Santa Clara County (2019). The result of Adkins' more than 12 years of historical research, they're a fascinating read.
After graduating from San Jose State University in the 1980s, Adkins taught high school in the 1990s, then earned Master's degrees in Education and English. A pivotal moment came in 2005 when she enrolled in a graduate course on California Literature.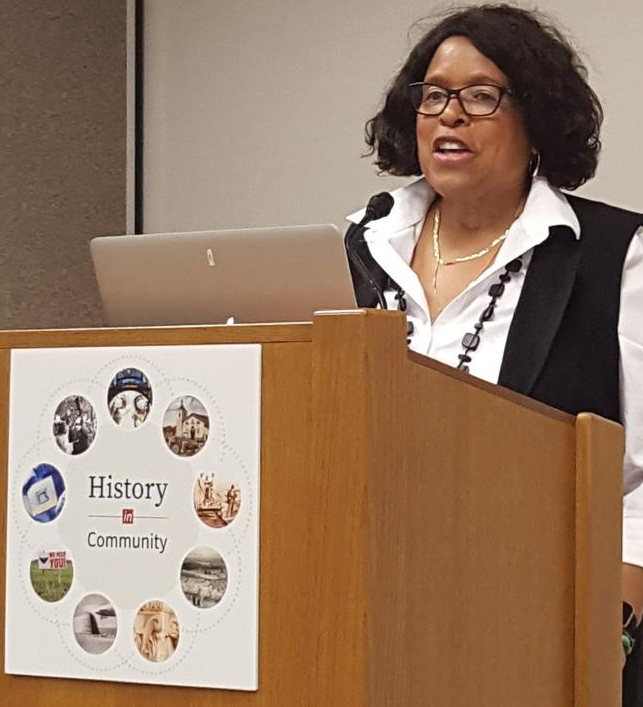 "I flipped through the course textbook. One thousand pages covering the 1840s to 1940s. An incredible era in our history, but what stood out was that the authors and stories did not reflect the diversity of California during that era.
"I asked my professor, 'Where are the Black people? I don't think I can take this course.' She said, 'Go and research. You'll find the answers you need.' That sparked the theme of my master's thesis, which focused on the African American community in San Francisco during the late 1800s. One week into the research, I was hooked."
Adkins spent hours exploring San Francisco, Oakland and California state libraries, historical societies, and church records. Two African American newspapers published in early San Francisco caught her attention.
"In those days, newspapers were the outlet for Black expression. Early publishers included abolitionists like Lloyd Garrison, Frederick Douglass, Mifflin Gibbs and Philip Bell in New York. Gibbs and Bell headed west to publish their own papers. Mirror of the Times and Pacific Appeal became a living record of the imaginative writings, poetry and short stories of African Americans of the San Francisco Bay Area.
In 2007, Adkins joined the faculty at San Jose City College, landed a book deal with Acadia Publishing, and continued her research.
"One person's story led to another. My writing naturally expanded beyond San Francisco to Monterey, San Jose, and Santa Clara County—and from one book to three."
Adkins is quick to credit the librarians who connected her to historical archives at the Martin Luther King Jr Library at SJSU, UC Berkeley's Bancroft Library, History San Jose and other organizations.
Even though California achieved Statehood in 1850 and entered the Union as a free state, historical records show an underground slave trade persisted to support the Gold Rush and farming. The Santa Clara County Census of 1852 still listed "slave" as an occupation.* Original emancipation papers and manumission papers from the 1800s reveal many stories of slavery."
While Adkins' books recount some harrowing aspects of the African American experience, she devotes greater attention to stories of their accomplishments and says, "There are more stories out there, and they're a source of pride and hope."
For example, Adkins' third book features statues by Mary Edmonia Lewis, the first African American sculptor to achieve international distinction. In the 1870s, her bust of Abraham Lincoln was purchased and gifted to the MLK Library where it's on public display today.
Another example is the cover photo of Adkins' third book. She visited the family that lived in the historic San Jose home (pictured) and received permission to photograph and use the original photo for her book. Built in 1910, the house is still standing today. Adkins learned that the family pictured on the front porch were the McCalls, who founded the local chapter of the National Association for the Advancement of Colored People (NAACP) in 1942.
Historic records of people of African heritage in the Santa Clara Valley date back to the 1770s. By the 1800s, they were a close knit community. During the Great Migration of the early 1900s, neighborhoods in San Jose, Palo Alto, and Santa Clara became home to African Americans who'd come West seeking a better life. In the face of discrimination and exclusion, they formed their own businesses, schools and churches and social clubs. They have overcome unimaginable obstacles and contributed to every aspect of America's history.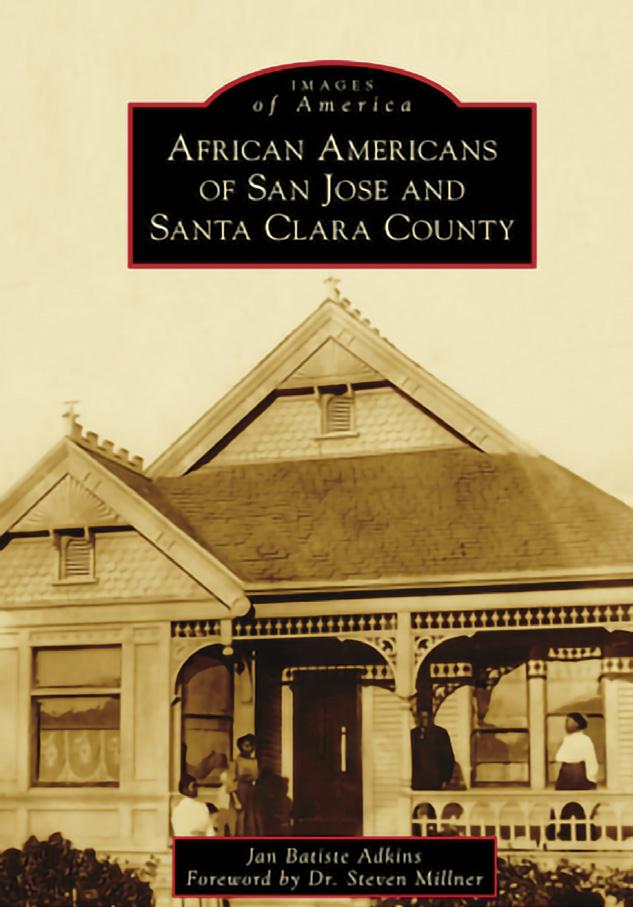 Thanks to people like Jan Batiste Adkins, their stories continue to be uncovered and shared for the enlightenment and benefit of all Americans.
Find Jan Batiste Adkins' books at BookSmart of Morgan Hill. Hear Jan Batiste Adkins' 2021 lecture on the Santa Clara County Library District website.